At the outbreak of war in 1939 Shardeloes, the family home of the Tyrwhitt-Drakes, was requisitioned as a maternity hospital to provide mothers, mainly from the south and east of London, a safe place to deliver their babies away from the danger of bombing raids. Over 5,000 babies were born there up until its closure in 1948.
Were you are Shardeloes Baby?
If so, why not be part of our story by adding your birth details to this website, Please click on this link
Peter Nicholas Nash
Born in June 1946 to Dora Davies (née Hatton) and Fredrick Verdun Nash of South-East London. Previously registered in June 1946, Number 45, then registered in September 1947, who is The Birth father on my June 1946 certificate? Now living in Malaga Spain.
Charles Essex Neal and Ladas Rosetta Neal (twins)
Born November 1945. "The Daily Telegraph birth announcement and pictures from 1949 and 50 years on (above) need no explanation, but the marriage photo (left) was taken at Betws-Y-Coed, North Wales on 4 June 1940, and apart from the bride and groom shows the Welsh clergyman and father's first daughter, June Elizabeth Essex Neal, born 15 June 1922, (later Pearson upon her marriage in 1950, now widowed) who at age 96 lives at the Common, Winchmore Hill, Amersham. She of course is not a Shardeloes baby as nearly a generation separates our half-sister in time.
Father spent all his working life engaged in Life Assurance in the City and volunteered for the Artist Rifles at the outbreak of WW1, was seconded to the Military Police based at Hyde Park Barracks and ended up in the Royal Flying Corps at Tadcaster, Yorkshire for the duration. After his second marriage in 1940 he had to join the Home Guard at Chalfont St. Giles whilst living at Cokes Lane during WW2. He was reluctant to attempt to start another family at his age, but agreed as long as the end of the war was in sight as he did not wish children to be born in wartime. Mother was born 2 October 1907 in Motherwell, Scotland, the eldest of 4 siblings – their mother died of tuberculosis in Stamford in 1917. She matriculated and became a governess in Yorkshire and later North Wales. Eventually she took a post at Father's home in North Harrow, looking after him, his ailing wife and June. His wife died in 1932 after 12 years of marriage and Mother left the house immediately for the sake of propriety but was later invited back to run it and continue to look after June, she and Father marrying 20 years after his first wedding with 20 years difference in their respective ages and Mother keen on attempting a family."
Margaret Nightingale (née Windbacher)
Born in March 1944 to Karoline Windbacher. Father, Patrick Irwin died in RAF bomber conversion training flight accident prior to my birth. Don't know where mother lived, could have been a domestic in private family house in London. Mother was Austrian from Nuenkirchen, and fled there to England around Kristalnacht. I was raised after being in an orphanage in Sheringham by wonderful foster parents. Privately educated with a good family life. Now living in Northamptonshire.
Valerie Noyes (née Connell)
Born December 1940. "My mother was sent there because of the bombing in London. She had a very difficult labour and was very frightened. She was only 20 yrs old and my father was in the RAF."
The memories from Lilian Rose Connell, her mother: "When I was pregnant with Valerie I used to sit in Paragon Park knitting baby clothes but was often disturbed by the air raid warnings and had to dash very swiftly for cover. The war was warming up by then! We were bombed out of our flat after we were married losing a great deal of our possessions. Dreadful to come home from the shelter one morning to see all our belongings scattered everywhere. We stayed with my mother for a week and Alfred had to transport all our furniture etc. to various places for storage. Unfortunately my mother's house was also made inhabitable by a land mine in the road ,so once again a lot of our furniture was damaged. The blast from the land mine had blown all my lovely knitting into the garden, where we found all the baby clothes blown up into the trees – not a very nice picture!
My mother and father went to stay with my sister at Brockley and I was sent to Lambeth Hospital for admission as I was ill and had nowhere to live. The hospital said it wasn't a good idea to stay there because of the frequent bombing.so we arranged for me to go to Amersham where I could be assured of rest. October 14th was a very sad day for me and Alfred to be parted. Little did we know I would be away for 3 months! Alfred stayed with his mother and used to visit me as much as possible by Green Line coach. I felt very anxious for him living in the dangerous bombing area,he also did a rota of firewatch /firstaid duty.
Valerie was born on 10th December 1940 ( with complications). Alfred bought me a gold wristwatch to celebrate … I still have it! I was discharged 19th January 1941. The nursing home wanted me to stay on and work in the nursery and office as they knew we had nowhere to live, but I wanted to go back. Alfred had managed to rent us a maisonette in Barnehurst, Kent."
Terence Oliver
Born in July 1943 to Edwin and Adelina Oliver of Ealing, West London. Sadly, Adelina (originally from Carmarthenshire died giving birth to Terence at Shardeloes. Now living in Beaminster, Dorset.
Gretchen Osborne
Gretchen passed away in 1970, this information is written by her sister, Mary Alice Osborne
Born July 1947. My mother Mary Osborne came to England from the United States in 1945 after VE Day to be with my father Jack Osborne who was serving in the British Army. They had met at a dance for British servicemen on Staten Island in New York in 1943 during WWII and were married in October of 1944. Mary became pregnant and was sent to Shardeloes in Amersham to give birth to my sister Gretchen in the summer of 1947.
My mother remembered her time well at Shardeloes and reminisced with us many times telling us stories of her adventures there. She spoke of the 2 foot thick walls of the building, which she said were like those in a castle. She enjoyed walking together into Amersham with her friend Lilian Mattholie, both were very pregnant, and the townspeople staring with great concern at them.
She remembered after giving birth to my sister Gretchen, of being allowed to "dangle" her feet over the edge of the bed a few days after giving birth, but not being allowed to get up and walk around for at least a week, which was so different from the present time with mothers going home the same day after giving birth! Mother spoke of being given the old-fashioned remedy of senna pods for constipation and how she and the other new mothers in her ward would wait until the nurse left the room and then stealthily toss them out the open window rather than to have to take this "terrible" cure.
My parents and Gretchen moved to the United States in 1950 and eventually made their home in beautiful, rural Washington, Connecticut. As she grew up, Gretchen loved to travel and spent a year as an international student in Finland in 1963. She went back to Finland and to England several times and kept in touch with fellow Shardeloes' baby Ray Mattholie and his parents. Gretchen went on to college and graduated and began a life on her own in 1968. Tragically, she had a fatal car accident on November 15th, 1970 on her way home to spend Sunday dinner with our family.
Gretchen was a very artistic and creative person who was always laughing and enjoying life to the fullest. She died with so much of life still ahead of her. We have always wondered what she might have done with her life and she has been so missed by us all.
(see also separate entry under Raymond Mattholie)
Kathleen Osborne (née Atkins)
Born July 1947. "My mother was in service to the family at Shardeloes when she was about 15, as a parlour maid. It must have felt very strange to go back when it was a maternity hospital and it was full of babies."
Marilyn Osborne (née Cook)
Born January 1945. "Mum in Waddesdon, Dad serving with Royal Artillery. I was told that I was a breech baby and it was a difficult birth."
Richard Mackay Page
Born July 1943. My Father was in the Ox and Bucks LI, probably in N.Ireland at the time of my birth. My Grandfather, W L Johnson, was a GP in Chesham and retired in about 1965. He lived at Lindley House, Church St. He gave anaesthetics at Chesham Cottage Hospital. I do not know if he attended Shardeloes, either as an Obstetrician or Anaesthetist. We moved to Surrey in 1946 and I qualified in Medicine in 1969. Having spent 5 years as a Naval Anaesthetist in 1977 I became a GP in Yealmpton, Devon. I retired in 2006 and now live beside the River Yealm in the village of Newton Ferrers, Devon.
I heard of this event through a friend who lives in the same village as me and has a flat at Shardeloes. He tells me his bedroom was the labour ward so we always joke about the fact that I was born in his bedroom. An odd quirk of fate occurred in 1970 when I was working as a junior doctor at the St. Pauls Wing of Hemel Hempstead Hospital. I admitted a very ill man who told me he was a retired Registrar of Births and Deaths. His name, W.E.Stokes, appears on my Birth Certificate. Fortunately he survived his admission, otherwise my name would have appeared on his Death Certificate!
Barry and Derek Parker
Twins born July 1947.
(In the small photo (1948) Barry is on left, in the larger one (2003) Barry is on the right.)
Barry has written about his life: "My name is Barry Parker, and life began at 2.45 am in Shardeloes on the 4th July 1947. An hour and half earlier my twin brother was born, his name is Derek Parker. We were the sons of Arthur John Parker and Ivy Jean Parker. My father was 41 and mother 44. We lived at the Nag's Head Whielden Street, Amersham and were introduced to our sister Alma Jean Parker. She was 16 at the time, so we had a different brother sister relationship. When we were three our sister, now 19, got married to Donald Robert Hinckley at St Mary's church in Amersham, and we were page boys. I remember we had our grandmother (mother's mother) living with us at the time and she is buried in a graveyard at the rear of the Nag's Head.
We went to school at St Mary's Junior school in Amersham, I don't remember much about that. I do remember coming home from school one day and the bank on the corner of Whielden street and High Street was closed and a picture in the window of the King, and was told the King had died. Although my father was licensee of the Nag's Head it was only a beer house, not licensed to sell wines and spirits, which was common at the time. He applied to the Council for a full license but was turned down, because there were too many pubs in Amersham, and alcohol abuse was on the increase. He was disappointed with their decision so in 1954 sold the pub to Eric Rance, who was the fishmonger in the High Street.
We then moved to Henley on Thames to the Royal Hotel on the river bank. We started school in Henley but the problem I found was that they were doing joined-up hand writing and we had never done that. It only sounds a small point, but at the time it was a big problem. I really enjoyed myself in Henley, lots of places to play along the river bank. We were only seven and eight at the time but we played out by ourselves, (We would be taken into care for neglect in this day and age.) One thing I do remember of that time is, in 1954 my father bought a new Standard Vanguard and one day Derek took the hand break off the car, and it rolled into the Thames. For some reason we didn't stay in Henley very long and in 1956 we moved to Bedfont in Middlesex where our parents bought a café.
We went to Bedfont Junior school which was uneventful really, but they did have a rule that you must not walk on the grass. We didn't stay to school dinners, all I can remember about that was boiled cabbage and tapioca. One day we were walking home for lunch when the head (Miss Marriott) was sitting in her office looking out of her window when she saw one of us put a step on the grass verge. After lunch we were called into her office and she wanted to know which one had done it, and we didn't know, and because she couldn't tell the difference between us, we both got the cane.
In 1957 we left the cafe and had a private house, still in Bedfont. We joined the boy scouts and went to St Mary's church where we were confirmed. We also joined the church youth club, but you couldn't be in the club unless you went to church, and here we were introduced to girls. September 1958 we started senior school at Longford County in Feltham. This was four years of hell, never a week went by without being caned, slippered, knuckled, often I couldn't write because of blisters on my hands. This was not because we were naughty, far from it, if your homework was not completed on time, if you couldn't grasp something, you were caned, they were sadistic. School was not a place of learning; it was something you had to survive, by keeping your head down. In 1960 the girls at the youth club left and joined a dancing school in Hanworth, so reluctantly we went as well. Surprisingly ballroom dancing came easy to us, and after taking lots of medals we joined a formation dance team, and gave demonstrations around the London area.
July of 1962 we left school with no qualifications, there was no 6th form then, when you were 15 you left school and got a job. We both got a job at the Premier supermarket store in Hounslow West. Due to my father's work, in January 1964 we left the London area and moved to Birmingham. I couldn't understand a word they were talking about, but soon I was picking up the accent. Six weeks after my 17th birthday I passed my driving test and bought a mini. I then got a job at Brazils sausages and pies whose head office was in Amersham. I was on the promotions team and had to promote them in stores in the area.
In 1970 I got a job at McVities Biscuits as a salesman, I also got married to a lady called Linda, and (coincidently Derek married a Linda.) That lasted until January 1976 when we divorced. In January 1976 I started my own food distribution business, and two years later went into business with Derek and formed a partnership, called Meadow Foods.
In 1979 I met and married Jackie, she worked in a shop I delivered to. I was now 32 and she was 2l. We went on to have three lovely children, Rachael, Sarah and Andrew. We decided to retire at 60, so we sold the premises and business, and on the 1st July 2007 cycled with Andrew from Land's End to John O'Groats. I have had 6 grandchildren and I feel life is just beginning. I see Derek every Friday night and buy him a drink, and I live in hope that one day he might buy me one.
I missed out a lot with my own children whist they were growing up due to work, so now I am making it up with my grandchildren. I never miss an opportunity to go to school plays, sports days, and graduations. This August we are looking after, 3 children, 4 chickens, and two guinea pigs. My plans for the future are, to have lots of holidays and when I reach 70 in two years time, to cycle the other way, from John O'Groats to Land's End. It may be easier downhill."
David Parsons
Born September 1940. "Mother evacuated from London. Father various postings in Hampshire." Now living in Australia.
Barbara Patel (née Butterfield)
Born in December 1947 to Joyce Butler and Alan Butterfield of Charlton, London SE7. My Dad & Grandmother use to tell me that they crossed fields to visit us in Shardeloes. Now living in Denham.
Mike Payne
Born April 1944. "My parents were both in the RAF/WRAF and were stationed at Medmenham. I am a professional cartoonist/illustrator and my claim to fame is that I created in 1987 and drew for 17 years Me to You's "Tatty Teddy" the grey bear with the blue nose. This little character sold on greeting cards and plush in over 94 countries worldwide."
Terence John Thomas Payne
Born July 1940 to parents Maurice Frank Payne and Joyce Eileen Payne of Chesham.
Joyce Eileen Payne, nee Andrews from Boxmoor, worked at John Dickensons. (Apsley Mills)
Father, Maurice Frank Payne, in services navy, army, when born, later worked as plumber, painter, believe at Axe(builders) Chalfonts, then later Pratts (Watford) builders supplies in Chesham as partsman in plumbing side, then maintenance at Alcans where the old Van Houtens chocolate factory was along Bellingdon Road, where there I also worked when apprentice electrician with George Gilbert (brother of Gilberts taxis) electrical engineer of Chesham Bois later at Chittendens Chesham, after moving to Southampton in 1963 , moving back to Prestwood in 2016.
Alan Stewart Pearce
Born March 1941. Parents were Edward Pearce and Dorothy Pearce of Bermondsey, London.
Terence Pearse
Born May 1941
Geoffrey Perkin
Born October 1947 to Jack and Irene. Father in Royal Artillery, then became an engineer. Mother worked at Royal Arsenal during war. We moved from London to Leek Staffs where I grew up, before going to art college in Canterbury where met my wife Lin, and moving to London where we had two beautiful daughters, both of whom create jewellery. Now retired, having run an advertising and design agency in Soho for many years. Now living in South London.
David Perry
Born July 1945.
Malcolm Petrie
Born February 1941. Father was a fireman stationed at Greenwich.
Barbara Ann Phillips (née Robinson)
Born June 1942 to parents William and Gladys Mary Robinson of Barking, Essex. Barbara was a twin, her brother Christopher John Robinson was sadly killed in a bombing raid during the blitz when aged two.
Barbara met her future husband fifteen years later who, coincidentally was also born at Shardeloes, Leslie Alan Phillips (see below entry). Together they had three sons.
Leslie Alan Phillips
Born May 1942 to parents Annie and Albert Phillips. Married to fellow Shardeloes baby, Barbara Ann (see above). He was in the London Fire Brigade.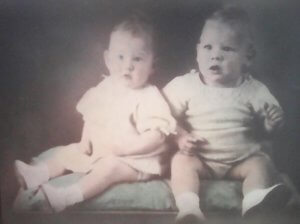 Christine Pickering (née Baker)
Born February 1943. "When my father left the army we moved to London, where I lived with my parents and younger brother until I married in 1966. My parents later moved to Northamptonshire. My father died aged 92 and my mother reached the grand age of almost 101, passing away in May of 2014."
Graham Plant
Born September 1947. "I always knew I was born in Amersham, only recently did I realise that this event was at Shardeloes ….confirmed by another look at my Birth Certificate! My parents married in 1942 while my father was on leave from the Army. His family mainly lived in the Holloway/Islington area. I was taken home to Upper Holloway where we stayed until I was about 10. We then moved to Tottenham and I stayed living with my parents until I got married to Pam. We then moved to Stratford upon Avon for a couple of years before moving back to London living in Enfield and then Woodford Green. I have recently retired after working in Insurance for a good part of it and as a self-employed Insurance broker for the last 23 years."
Janice Plant (née Gould)
Born March 1942. "My mother was born in 1913 and grew up in Shardeloes Road, off Amersham Road, Brockley, S.E London. How strange then that she should be sent to Shardeloes in Amersham for my birth in 1942!
My father, a comedy actor, kept moving house during the war to "dodge" the bombs so by the time of my birth my mother was living in North Kensington. My mother told me later it was not unusual to see a little mouse scurrying across the floor at Shardeloes, she was always scared of mice!!
Although I had opportunities to follow in my father's profession I decided it wasn't for me, instead, I worked for two petro-chemical companies arranging business travel for staff members. My own son was born in 1977 and I later worked at his old primary school, until my retirement, as a Learning Support Assistant for children with autism and tourettes syndrome, a job I found very rewarding.
My father died in 1962 and my mother in 1994, I miss her a lot and I know she would have been thrilled to know I was in communication with Shardeloes.
Susan Pollock (née Beckingham)
Born August 1944. "My mother and father had moved out of London and had lived for a while with the Gibsons in Rose Cottage, High Street, Old Amersham and later in First Avenue.
My mother had a long labour, but eventually phoned my father to tell him he had a tiny, dark-haired little daughter. He walked to Shardeloes and went to the Nursery giving his name as Mr Beckingham and was presented with a big ginger-haired baby, which was quite a shock for him until it was found to be baby Buckingham. I came to the tea party [at the Museum] in the hopes of meeting Mr Buckingham, but sadly he wasn't there."
Hilary Povey (née Stevens)
Born May 1946. "I was born on a Saturday at 4pm. As Mum was not too well we were transferred at some stage to THE LAWNS at Chalfont St. Giles. (Between St Giles and Little Chalfont)"
Margaret Powell (née Thorne)
Born July 1944(?). Mum had to catch a bus from Croydon to meet up with the coach which was taking her and the other pregnant mums to Shardeloes. She boarded the.bus and was told by the conductor "I don't think we'll get through as the whole of Streatham High Street is down as there's been a land mine " The bus 159? did make it and I was safely born in Shardeloes.
Suzanne Powell
Born August 1941. Suzanne remembers mother, Margaret, telling her about a lake with swans and that she would never eat porridge again as she was given so much of it at Shardeloes!
Shirley Price
Born February 1947. Her sister reports: "I know that 1947 was the year of the deep snow drifts and that made it difficult for my father George Edward Price to visit and to take my mother home with Shirley. Unfortunately Shirley has died."
Graham Quincey
Born in March 1944 to Vera Alice Quincey and Arthur Edward Meanwell Quincey of Aylesbury. Father was RAFVR during the war years, & a company cashier for the GA insurance co before the war, my mother also worked at the same Co. Now living in Thetford, Norfolk.