At the outbreak of war in 1939 Shardeloes, the family home of the Tyrwhitt-Drakes, was requisitioned as a maternity hospital to provide mothers, mainly from the south and east of London, a safe place to deliver their babies away from the danger of bombing raids. Within 24 hours, the drawing room was converted into a ward and the library to a medical store and office. 55 beds were provided with a staff of about 20. Mr. Scantling, the butler became hospital porter.
Dr Beatrice Turner, a London Consultant Obstetrician, was in overall charge. Several midwives were billeted with local residents in Old Amersham at a cost of 10s a week. They were advised to 'bring a bike with suitable lights' as the hospital was 1 ½ miles away.
Both the then Queen Elizabeth and the Princess Royal visited the hospital to celebrate landmark births; the Queen on 26th June 1943 for the 2,000th baby and the Princess on 9th September 1944 for the 3000th. Shardeloes had the lowest mortality rate in the country, 1.676 per 1,000. Every mother in labour had a general anaesthetic which was not common practice elsewhere.
In 1945, Mrs. Tyrwhitt-Drake was presented with a Wendy House as a token of gratitude from the 3,900 babies who had already been born in her home. The family never moved back there and the hospital continued to support the local community, eventually closing in 1948 raising the number of births to over 5,000, the most famous being Sir Tim Rice.
Dinner at Shardeloes
In November 2015 Edward Copisarow, who lives at Shardeloes, very kindly opened his part of the house for an Amersham Society fund-raising event for the Amersham Museum expansion project. A magnificent dinner for over 70 guests was arranged in The Hall, after a reception in The Drawing Room and The Library.
Between the courses, four of the "babies" read extracts from some of the stories on this page and Dr Marjory Foyle, who was a trainee doctor at Shardeloes in about 1944, talked about her life in India and Nepal and the memories of Shardeloes which she kept in her mind when homesick. See a gallery of photos taken during the evening..
BELOW YOU CAN READ THE STORIES OF OVER 160 "SHARDELOES BABIES" WHICH AMERSHAM MUSEUM HAS COLLECTED. If you are one of the "Babies" and your story or photos are not yet shown below, please do let us have your story and date of birth at Shardeloes by filling in a questionnaire.
Valerie Adams (née Guiver)
Born July 1946. "Dad came home from serving overseas at the end of the war, the year before I was born. I believe that my mother had high blood pressure and was sent out of London to rest before I was born. I remember my parents and older sisters talking about visiting my mother at Shardeloes."
"I would have enjoyed coming to the tea party but living in Australia ruled this out. I've always been interested in the place I was born and wondered about the other children who were born there, so it's of real interest to me. I've never visited Amersham or Shardeloes but have seen the exterior in various TV programmes and have also looked it up online. What a wonderful house; so glad that it wasn't demolished. My parents were 37 when I was born and my sisters 11 and 8. My family lived in Bethnal Green but moved to Chingford when I was 9 months old and I was brought up there. In 1971 I married a New Zealander who was backpacking around Europe and in 1972 I left for NZ. We lived there for 18 years before coming to Australia in 1990, mainly because of my husband's job in the mines. Now retired we live in a small coastal village near Noosa in Queensland."
Peter William Anderson
Born Novemeber 1943. "My mother was from Eire and my father was from Workington. Cumbria. We lived at Grays Inn Road, London until I was 4 years old then moved into a new flat in Chenies Street."
Maurice Appleby
Born June 1946. "My mother was born at 124 High Street Amersham in 1912 and lived there until her passing away in 2007. My father was born in County Durham and came to Amersham in the 1930s. I lived with my parents until moving away when I was 21."
Barbara Aris
Born July or August 1947. Mother, Rowena, was a local resident taken to Shardeloes with eclampsia in summer of 1947, but her daughter Barbara died. "… it was all lady doctors and specialists but in my case they did have to call in a male doctor from London as the lady specialist was on holiday."
Gillian Arrowsmith (née Neill)
Born November 1940. "Father an audit clerk in Chartridge and I believe my mother was evacuated and I was born at Shardeloes."
Maureen Bailey (née Reed)
Born June 1942. "Father serving in Army. Mother Scottish came down from Glasgow to stay with father's parents for the birth then went back. Returned to Chesham at end of the war."
Peter Bailey
Born August 1940
John Anthony Baker
Born February 1944. "My mother was evacuated to the house before I was born during the V2 bombing of London. I was born at Shardeloes sometime after. I do not have a lot of detail around how long she and I were there."
Terrence Baker
Born November 1944. Parents lived in Kennington and were "evacuated out of London in 1944 due to bombing."
The first photo is of Terry aged about 2, with his Dad Joe and Mum Edith. The second photo is of Terry now.
Edmund Alan Barber
Born February 1941. Now a retired Mechanical Engineer living in Spain.
Pauline Christina Barrett (née Jones)
Born December 1942 to parents James Charles Cleobury and Ellen Jones of Bromley, Kent. My Mum was working in a factory , then went to have me at Shardeloes. My sister who was 8 years old was evacuated elsewhere. My father was in the Queens Own Royal West Kent Regiment, was in Burma. He died 30th April 1945. So sadly I can't remember him. My Mum always told me that I was born in Drakes Castle. Pauline is married and has 5 children, 16 grandchildren and 7 great grandchildren, now living in Kent.
John Bawden
Born May 1943. "My Mother and Father were living at 524 Hertford Road Lower Edmonton N9 after being married. My mother was pregnant when Dad was sent overseas with the Royal Artillery during WW11 and he spent two years fighting in campaigns from Africa, Syria, and was at the liberation of Italy. My mother was sent to Shardeloes, for her confinement. And I was born on the 9th of May, 1943. We were then sent on to Wakefield for a time and then were able to return to Hertford Road. In 1946 my Sister, June, was born and in 1949 my sister Janet was born and in 1953 we moved to 159 Sandhurst Road Edmonton. My two sisters and I went to the Cuckoo Hall Lane School. Leaving school I started working in the Railway and I was working on the steam trains. This time gave me a lifelong fascination with steam trains.
In 1966 I migrated to Australia, arriving in Fremantle on the Ellinis. It only cost ten pounds and consequently I became "a ten pound pom". Fremantle Maritime Museum, located on the Fremantle Port, built a Welcome Wall for all migrants that entered Australia via the Fremantle Port, my name is on the wall. I travelled to Bunbury and started working at La Porte in Australind WA. I married in 1970 and with my wife Lesley we had two sons. In 1992 I took my wife and sons to the UK and drove to Amersham to show them the "big house" I was born in. We have had five trips to the UK over the years and four trips to New Zealand and now that we are retired we are travelling around Australia as much as we can, taking two holidays per year."
Jennifer Bate (née Blower)
Born November 1943. "My mother was in service at a big house in Norwood High Street, West Norwood SE27. I was adopted as a babe at ten days and my family were wonderful. We lived in West Norwood until my twenties. I visited Shardeloes in 1990 with my husband and children, we just drove in and were overwhelmed by its beauty and grandeur as we didn't know what to expect. My parents and family who adopted me were wonderful. I couldn't have had a better or happier or more loved chance in life but finding the place of my birth gave me some roots and a feeling of pride."
Michael Beach
Born November 1940. My parents were evacuated to Amersham in 1939/40. We lived in a bungalow called North View, Woodside Road, Amersham. My mother had a dress shop nearby, I believe it was called Lillians. My brother was also born at Shardeloes in 1943.
My father used to travel to London during the week. He used to walk past a shop which had a working train set in the window of one of the shops. He eventually bought it but forgot the bungalow did not have any electricity. I still have it to this day. In 1947/8 we moved back to Cricklewood, North West London
I got married in 1967 and we had two gorgeous girls Michelle and Gemma. I had my own business for about 30 years. Then tragedy struck: our younger daughter passed away in 2000 and my wife in 2008. In April this year I suffered a heart attack.
Penny Beattie (née Beal)
Born 1944. Now living in Bristol. "My mother was in London having left the ATS. My father was in the Royal Marines. My mother is 97 now but if I can get any information from her I will let you know. She told me there was no glass in the windows because of the danger of bombing, but no one else mentions that! I know I was born with my tongue attached to the roof of my mouth which prevented my feeding. A cousin of my mother who was a doctor, realised and rectified the situation. I am not sure how long it was before my father knew of my birth as he was away in (I think) the Mediterranean."
Mr J K Bedwell
Born November 1944. "My Mother was evacuated from London to escape the Doodlebugs, sadly both my parents have died so no more information available."
Colleen Betteridge (née Haley)
Born September 1940. "Parents lived in Barking, Essex. My mother went to the country to have me and to be away from the bombs. My Father had an uncle that owned a pub in or near Amersham. Father stayed at Rose Cottage when he visited my Mother from Barking. When I was little, my parents often told me about the big house that I was born in. My Dad said he would take me there one day. When I was about 8 years old, that one day came, and we drove to Shardeloes. I remember my Dad driving right up to the front door so that I could get a good look at the place (we didn't go inside). I was really impressed! I emigrated to USA in 1962 with my husband. In 1984 we took a trip to Buckinghamshire (staying at The Jordans). We went and visited Shardeloes and realized what a beautiful area it was (there were sheep on the front lawn as I remember). My Mum told me that when she was there a bomb dropped close by and as they were on the upper floor of the house, they had to run down all the stairs to go down for safety to the cellar. She hadn't had me yet, so that must have been quite a site with all the mothers-to-be running down the stairs. Especially as they were there to escape the bombs!!"
Angie Bierne (née Piper)
"Memories of Shardeloes from my mother. Her name was Muriel Piper and I was born on the 26th July 1944 and also named Muriel Piper but later this was changed to Angela. I remember her telling me what a marvellous house it was, the staircase being huge and very fancy and how after I was born she was moved out to the stables which had been converted into Mother & Baby rooms. My Aunt (her sister) told me she made the journey to visit my mum by train with her mother (my gran) and it took all day to get there the walk from the village being miles.
I first went to Shardeloes on my 15th birthday, again when I was 21 when it went up for sale and again when I was 50, not realising on my 50th I could have gone in and had a look around."
Thomas Bird
Born January 1947. "I went to a school on Tower Bridge Rd, near the southern side of the river. We emigrated to Oz in 1957."
John Michael Blears
Born June 1947. His mother, Pauline, was in the Air Force but demobbed in 1945 when she married. She remembers being sent to an ante-natal house where she helped to prepare vegetables and washing up. Pauline was moved to Shardeloes when pains started and in an upstairs ward remembers waking up to see a mouse on her bedside table cleaning his whiskers. She remembers it being very hot and walking around in her cami-knickers!
Michael John Boxhall
Born December 1943. "Father was head gardener for a nursing home (Fenstanton Ltd.), which had evacuated from South London in 1939. Several properties were taken on in the Little Chalfont area. The nursing home relocated to Burnham in 1947, but eventually ceased business in 1963. Parents married in Amersham in November 1939."
Linda Bradley (née Chipping)
To parents James Alfred Chipping and Rose Chipping (née Russell) of London. I remember mum telling me that dad walked across a field wearing his army uniform. Now living in Cyprus.
I was introduced to a friend of my brother in law's 35+ years ago whom I really bonded with. When I divorced she introduced me to her boss who I later married and we are still very happy after 35 years. About 20 years ago we were talking when the subject of Amersham came up. We both said simultaneously ' I was born at Shardeloes'. It's hard to imagine such a coincidence.
Alan Breese
Born January 1948, the last baby to be born before the hospital closed. From a local family in Chesham. Father, James, lost half a hand in the war and was treated at Stoke Mandeville. (The pictures are of Alan as a baby and with his parents).
Maureen Bristow (née Norris)
Born Janury 1942. Mother was brought up in Ealing and father was brought up in Brentford. During the Blitz mother evacuated to Amersham from London. She has a letter written by her father on 20th March 1942 which reports: "Baby was weighed again today and she has put on another 25 ozs. She now weighs 10½ lbs net. Tell Sylvia that she has Cod Liver Oil and Blackcurrent juice as Iris has been unable to obtain orange juice or any oranges." There is a fascinating P.S. "The King came to Amersham today as it is War Weapons Week. He visited the camp in [illegible] St. None of us saw anything of him. We did not hear of it until it was too late. I went on Church on Sunday with the Home Guards and ARP. Good wasn't I?" Maureen has recounted three of her mother's memories of the time:
• It was a bitterly cold January with just one fire at the end of a very large room being the only form of heating for the mothers and babies.
• Babies in their cots were put out onto the veranda for fresh air, even when it was snowing.
• Mice could be heard scurrying about in bedside lockers.
Pamela Brooks (née Harrison)
Born June 1941. "My father was in the army and was working on an airfield, I think somewhere in Buckinghamshire, before being sent overseas. Previous to this they had been living in Dagenham, Essex. I have Shardeloes on my birth certificate. My mother took my older brother and myself back to live in Dagenham some time after my birth. My mother went to work at Briggs Motor Bodies helping to build tanks for the army. After my father was invalided out of the army he went to work in the Royal Albert Docks." Now living in Australia.
Edna Barbara Brooks (née Bunn)
Born October 1940. "My late twin sister (Carol) was born some 10 minutes earlier than me, but died at the age of 9 months. I'm not sure whether scans took place in those days but it seems I was unexpected as Carol got the chosen name and I was named after the midwife who delivered us! My parents lived in Westminster, London. My mother was moved to Amersham as a place of safety for the birth but returned to Westminster soon after. Father was overseas in the army."
Carol Sheila Bunn
Born October 1940. Died 9 months later. Cause of death meningitis. (See entry for her sister Edna Brooks above.)
John Broom
Born September 1944. "My father was in a reserved occupation working at The Daily Mirror. My Mother and my sister (7 years older than me) were evacuated to a house/family in Chesham."
Norma Capel (née Daniel)
Born August 1945. Parents were living in Catford SE6.
Brenda Carter (née Dawe)
Born November 1943. "I believe first year of my life was spent in Scotland. I think we went back to London first. I'm told I had double pneumonia which my grandmother nursed me through."
John Carter
Born November 1941. "Mum was living in South East London. Dad was serving in the Army."
Maureen Carter (née Bridgman)
Born July 1945.
Jean Caton (née Cadle)
Born April 1946. Her parents were living in Flackwell Heath.
Ruth Channer (née Lewis)
Born August 1942. "Father had been ill with TB in Frimley Hospital a year before I was born. My parents lived in Bermondsey and later in Downham Kent, where the picture was taken with two of my three brothers. It was interesting reading all the stories as I don't know much about my Mother's experiences except she used to walk quite a long way to the next villages."
Diana Chapman (née Williams)
Born August 1944 to Victor Dennis Williams and Mabel Eva Williams from Lewisham SE 14. Victor was a printer and war time fireman, Mabel was a warden and the manageress at the Lewisham Picture Palace.
Christine Cinello (née Pimm)
Born November 1942. "Father was a carpenter in the war worked on boats in Scotland. Mother was housewife." The photos show her parents and brothers, one born 1940 at Bishops Stortford and the other 1951 in Poplar, London. The group photo below was taken in 1945 at the end of war.
Suzanne Clarke
Born December 1943. Mother evacuated from Cricklewood, had a two week stay and "had one of the pleasantest Christmases spent, it snowed"
Diana Cobb (née Paxon)
Born 1943. Her sister (Sylvia Worden) says: "My mother had already lost one baby so as her sister in law lived at Chalfont St Giles she invited her to have me in Amersham. My sister Diana was also born there in 1943."
John Cobb
Born September 1941. "Father wartime National Fire Service (London). Parents lived in same house [in Chesham Bois] for some 15 years before moving to Old Amersham."
John William Cogan
Born November 1947. Parents Richard George and Doris Nelly Winifred from Bromley, Kent.
Richard was in the Royal Engineers assault squadron and fought in France, Holland and Germany. He was demobbed in 1947. Doris worked both in an ammunition factory and as a fire warden. John has an older sister.
Alan Cohn
Born October 1943. Lives locally.
Carol and John Compton
Carol Hook was born in July 1946, John Compton in November 1941.
The only Shardeloes Babies we know who were (much later) married. "We did know that we were both born at Shardeloes before we got engaged, and then took a trip to Amersham to find Shardeloes but were unable to get any further than the gates. We married in 1965 and this year celebrate our 50th wedding anniversary and are now retired with our family in Western Australia."
Isabel Comens (née Dunn)
"Both my brother who was born in 1942 and myself in 1945 were privileged to have been born at Shardeloes. We are both in different parts of the country now."
Brenda Cook (née Eaton)
Born March 1941. "I believe I was the smallest born that day and it was in the daily newspaper of the day." Now living in Canada.
Penny Cooke
Born January 1945 to parents Williams James Cooke and Sylvia of Kensington Gardens, London. My father was working for the Gasworks and therefore did not get called up. My mother worked in factories during the war. Now living in Ngunnawal, Australian Capital Territory, Australia.
Michael Cooper
Born July 1946, parents lived in Streatham, London. Michael's father Robert had to wait six month to see him as he was in Palestine in the army.
Anthony Corfield
Born July 1944. "After birth moved to Hornchurch to live with father's parents, then in 1948 to Constantine Bay in Cornwall, in 1950 to Perranporth and in 1958 to Lulsgate near Bristol."
Susan Cowen (née Mitchell)
Born March 1943. "Our father was in the RAF. I am identical twin, my sister's name is Ann Mitchell (see below). I was born first. We came to see Shardeloes last week (August 2017), me for the first time."
Michael Crowther
Born September 1944. Parents were in service in London.
Patrick Coughlin
Born May 1942
Maureen Cutress (née Hester)
Born January 1943. My parents were living in a flat in Peckham but as Dad was serving in the Army Mum was staying with her parents at Elephant & Castle, so as not to be on her own.
Michael Danks
Born November 1943. After the war we lived in a prefab in West Kensington and then a council flat in Fulham. My parents, brother and sister emigrated to Australia in 1970.
Olive Davis (née Blake)
Born January 1946. "My father was a USA Army Sergeant, Truman Doss. Found my family via genealogy and wrote a journal on my visit to Kentucky to meet my siblings. There is also reference to my Mum and her life as well as my father. " Click here to learn more. Now living in Spain.
Patricia Davison (née Allen)
Born July 1946. Father was a regular soldier (Military Police) and met her mother at Bulford Barracks. They lived in Grimsdells Lane, Amersham, later on the Quill Hall Estate. Her mother worked at Goya's.
Anthony Daykin Oldershaw
Born April 1945, parents Graham William Daykin and Ethel Irene Oldershaw (ne Cook). Father was Army officer. Mother lived with parents at Sunbury, 16 Downage, Hendon, London. Now living in North Yorkshire.
Vivienne Dearlove (née Eldridge)
Born April 1945. "We immigrated to South Africa in 1952 and I have been unable to return to the UK to visit the place of my birth. Just a walk down memory lane."
"My father who was in the Air Force met my mother in South Arica. When they returned to England they married and I was conceived. My mother being a fiery red head was very unhappy with the attention that she was receiving during her pregnancy – they were stationed in London at the time. She proceeded to write to Sir Winston Churchill letting him know how upset she was that in her delicate state she was not being taken care of properly. This would have been in late 1944. My father being a Sergeant in the Air Force was mortified that she had done this. A short while after sending her letter, a Rolls Royce pulled up outside our cottage. It was the secretary to Sir Winston who had been tasked to see that this visitor from South Africa was taken care of properly. Every two weeks until my birth the Rolls Royce would arrive and take my mother and I for her check-ups and eventually to Shardeloes for my birth. On one occasion after being picked up by the chauffer our cottage was bombed. My father did not know that my mother had gone for her check-up so at first thought that we had been killed in the bomb blast. Thanks to Sir Winston and his Rolls Royce, we both survived, and today I am able to share this story with my grandchildren."
Pete De'Ath
Born May 1945. His family resided in Stepney. He moved to America in 1958 and he visited the U.K. often. He died in January 1996.
Louis DeSarno
Born March 1946, now living in New Jersey. "When the nurse presented me to my mother after I was born at Shardeloes she said 'Here's your little Tookie', a name that has stuck with me all my life for family and friends. I have visited Shardeloes four times over the years and was given a tour by a resident and groundskeeper. My mother talked and described her experience there but it took me over 60 years to experience it first hand."
The photos are of Ann DeSarno with Louis "Tookie" DeSarno in 1946 at a park in Hendon, London, after leaving Shardeloes to live with his Aunt May and Uncle Charlie. The other photo was taken 70 years later at Shardeloes in April 2016.
Maureen Vivian Dinnage (née Rackham)
Born February 1947. "Parents lived in London. They were subsequently moved out to South Oxhey. It was a very snowy winter in Feb 1947 and I think they were snowed in at Shardeloes."
Barry Dover
Born February 1946. "Dad was a coalman in Aylesbury."
Jill Draycott
Born June 1942. "Mother was unmarried and from North London, and sent out of London for my birth. I was adopted at three weeks."
Janet Margaret Dunford
Born in May 1943 to mother Lily May Clare Dunford. née Warnes. My birth certificate shows that I was adopted by my mothers husband in 1948 . I am a historian researching on how children born in the late forties of mainly American and Canadian fathers were affected by the circumstance of their birth I have already completed research here in Germany on children fathered by Russian soldiers in 1945. I live in Potsdam just outside Berlin.This was originally East Germany I moved here with my husband (German) and our children from Bielefeld in West Germany in 1990 after the fall of the Berlin Wall.
Paul Dunsdon
Born March 1945
John Easden
Born June 1945
Christopher Ebsworth
Born November 1947. (Here is a copy of his birth certificate.)
Jill Ede (née Brinsden)
Born May 1943.
Lorraine Elliott
Born February 1947. "I was told at one point that my father was in the Metropolitan Police Force and stationed in Amersham. My mother talked of walking into town with other ladies from Shardeloes."
Maureen Elliott
Born September 1943. "Dad worked at Hoffmans manufacturer of ball bearings in Chelmsford. He was a machine setter. Mum was a housewife not allowed to work when pregnant. Previously worked on ammunition in Hoffmans. Was a nurse when meeting dad."
Sheena Engelhart (née McGregor)
Born May 1944. Mother was living in North Kensington. Sheena now lives in Bowen Island, B.C. Canada.
David Faiman
Born March 1944. "I went on to an academic career in theoretical physics and then solar energy: Willesden County Grammar School; Queen Mary College London; University of Illinois; Oxford University; CERN, Geneva; Weizmann Institute, Rehovot; Ben-Gurion University of the Negev. More info in Wikipedia. Parents moved to Jerusalem at age of 80. Mum died age 88, Dad at age 96."
Jaqueline Ann Field (née Martin)
Born September 1942. "Dad was in the merchant navy."
Graham Finesilver
Born 1941. Mother's memories include: rooms very cold with only one log fire, most beds had names, his mother's was Queen Ann. Mother and friends walked to the Willow Tree Tea Room in Old Amersham from Shardeloes to sit in the garden and have tea. Cellar at Shardeloes was full of armour and lace-up boots.
Graham John Fisher (On behalf of his father)
My Dad was born at Shardeloes and soon after adopted. His new parents were Beatrice Mary Fisher and Alban John Fisher from Olney.
Madeleine Fletcher (née Shaw)
Born July 1944. Father was doing reserved occupation in Old Amersham before joining The Fleet Air Arm; he was a navigator. Parents moved out from SE London to Winchmore Hill. Sister to Angela Skrimshire, also a Shardeloes baby.
"Apart for a few early years in Brockham, Surrey, we returned to Amersham where I grew up eventually going to Dr. Challoners grammar school. I married Keith Fletcher of Chesham in 1964. We moved straight into a house in Chesham, where we are still living surrounded by beautiful countryside. We have two daughters Elaine and Katherine and one grandson. Having trained initially as a Hair Stylist, I have branched out in many areas, becoming a holistic therapist, an artist, exhibiting locally and now a children's Author. I taught ballet for 17 years at a local dance school during the 80s. "
Laurence Flood
Born February 1946. "I have had an interest in the house and possess a book titled Shardeloes Papers. My Father came from the Irish Republic, mother from Southfields South London. Being Irish my father was not a combatant in the war and I believe he was in rectifying bombing damage to airfields. He died, of cancer in 1959."
Veronica Forsyth (née McDermott)
Born June 1942. Father was away in the war. I was the 2nd child in the family.
John French
Born September 1943. "Dad was a Geordie from Gateshead and joined the RN as a Boy Sailor. Met Mum (née Keller) when she was a Wren. Dad served from 1935 until 1948 and then returned to Pineapple Rd where Mum lived with her mother. Myself, brother and sister all brought up at Pineapple Rd and all went to Dr Challoners. Mum recently died having lived at 17, Pineapple Rd, where she was born, for all of her 97 years apart for short break in Wrens and last 3 months in Care home. My mother's mother was an Axten and she was born in the Chequers PH in Amersham in 1875 where her father was the licensee."
Malcolm Frost
Born June 1944. "Father serving in army. Mother living with family in north London. My mother lives with me and will be 98 in September 2017. She has memories of Shardeloes."
Marie Furniss (née Sansom)
Born May 1946. Lives locally.
Ann Garrott (née McInerney)
Born April 1941. Her parents were from County Clare in the Republic of Ireland and her father was stationed in Wales at the time in the Royal Artillery.
Elizabeth Gebbels (née Stapleton)
Born December 1943. "We were evacuated to my maternal grandparents soon after my birth. They lived at Orange Wood, Epping Upland, Epping, Essex. My father stayed in London."
Wendy Gething (née Howard)
Born August 1946 to parents Harold Cappleman Howard and Winifred Hilda Howard (née Kirk) of Lewisham area. Wendy was either triplet or twin. Now living in Nottinghamshire.
Roy Goddard
Born July 1942. "My father was a Private serving with the East Surrey Regiment when war broke out. He was demobbed after the war." Parents were living in Shoreditch, London E2.
Erica Godman (née Edwards)
Born June 1941, parents living in Chesham Bois
Patricia Golding (née Ambrose)
Born January 1947 to parents Richard Arthur Ambrose and Winifred Clara Winteridge. At the time living at 121 Lodge Avenue, Dagenham, Essex
My father was born in 1915 and served in the Army in the 2nd World war. He died in 1981
My mother worked in munitions. My parents married in December 1944.
My mother was born in 1918 and died a few months before her 100th birthday in 2018. Now retired but have been working in a local charity shop. Living in South Woodham Ferrers.
Peter Goodman
Born February 1942. "My parents lived in Matham Grove, Dulwich, London. My father worked for Moser (aircraft packer) and died in 1945 when a German V2 rocket hit the factory in the Borough . Mum keep on working as a housekeeper. She married again and we moved to Bermondsey in 1947. She died one week short of her 100th birthday."
Barry Goodwin
Born May 1943. "I know my mother was in the land army during the war. My birth certificate states my father was a civil defence ambulance driver/ meat porter. I was evidently moved down to Bath with relatives as a baby for safety. I lived at the east Dulwich address until I was 21 and got married. I moved to New Cross. Lived on Lewisham Way at the junction of Shardeloes road and Amersham Vale/Way. What a coincidence."
"Schools attended: Grove Vale Infant, expelled for going walkabout at five years old, lol, Friern Rd Infants, Heber Rd Primary, all East Dulwich. Nunhead Secondary, Peckham. Tulse Hill Comprehensive. Left with O level English, A level art. Work history: Sign draftsman; Silk screen printer; postman West Central, Holborn; Wholesale Fashion trade, Oxford Circus Area, five years; mini cab driver; courier company partner; van delivery self employed; BMX and skateboard shop, cycle shop manager; Mini cab driver again. I spent the last eleven years until I retired working for my sons removal company at Kidbrooke, SE4. Accounts, payroll and general office. Retired at 68 years old. Now I write and self publish my books on Amazon under the pen name, Charlie B. and I run my own group on Goodreads where I've made friends with people all over the world."
Monica Goozee (née Hersant)
Born June 1944. Mother living in Westmister. Father served with Royal Engineers.
Jean Gordon (née East)
Born November 1946. Her parents lived in Great Missenden. "I don't know much about my beginnings, apart from my mother being in Shardeloes for about 3 weeks. Dad was unable to visit for 10 days, as he had not been demobbed. Dad took part in the D-Day landings and, after the war, resumed working as a baker and confectioner. He later became the first caretaker at the newly-built Misbourne School in Great Missenden where he worked till he died in 1971.
I met and married my husband (an Australian) in 1971. We have two sons and one daughter and now five grandchildren. I'm very pleased to be included as a 'Shardeloes Baby' and a (very small) part of Shardeloes' long history."
Christine Gosden (née Knight)
Born November 1945
Marion May Greaves (née Tolton)
Born February 1945. "My parents, Stanley James Tolton and Winifred May Tolton, were living in Upper Norwood, London SE19, at the time of the war. My father was in the RAF and he was stationed in Egypt at the time of my birth, maintaining and guarding the aeroplanes that might be required in future events, and didn't return home to England until July 1946. Mum had to leave her two older sons with relatives whilst she went to Shardeloes to deliver me. I was born 2 weeks early weighing just over 5lbs. She was advised to stay until I had gained some more weight. She recalled working in the kitchen during her early labour. She also remembered walking up a long drive to reach the house."
"My maiden name was Marion May Tolton. I now am living in Needham Market, Suffolk since my husband's work moved there, soon after our marriage in 1966. My married name being Greaves."
Barbara Grundy (née Hiller)
Born June 1942. "The only thing I remember my mother saying about Shardeloes was that as she was 46 when I was born (unusually old for 73 years ago) & it was possible that she might have a tricky birth, she was sent to the peace & safety of the countryside. My brother was 25 years older than myself, in WW2 for seven years, the last of those in Burma. My parents, thinking that they might never see him again & so would not have much to show for their lives, thought they would start over & so this resulted in myself. Luckily my brother returned from Burma safe & sound, & I wonder what he thought of his unexpected baby sister."
Lola Gudsell (Nee Walton, mother's name was Violet Walton and my father Joseph Walton)
Born February 1941. Her mother lived in Amersham-on-the-Hill and her father was stationed in Weedon. Her two older sisters had measles and her mother had to be put into isolation, so she was sent to Shardeloes to one of the converted stables.
Lila Guha
Born October 1947, now living in London.
Chris Hailey
Born October 1946
Susan Hancock (née Blundell)
Born February 1947. Her father owned Blundell's Bookshop in Chesham. "It was a notoriously cold winter and my mother used to tell us that my father strapped tennis rackets to his feet to act as snow shoes and walked from Chesham to Shardeloes several times. She was not able to leave Shardeloes for quite a long period because the roads were impassable!"
John Hankins
Born January 1944. "I only knew [that I was born at Shardeloes] as it is written on my birth certificate. At the time my parents would have been living in White City Shepherds Bush, London. My father was in the RAF at the time. I lived there until I was 21 when I got married and moved to Middlesex then to Kent. In 1981 we moved to Newquay Cornwall where we still live. We have just celebrated our 50th wedding anniversary. My mother didn't really say anything to me about Shardeloes and how she was sent there to have me. I have an older sister and wonder if she would have been with my mother when she was sent there.
We have family at Flackwell Heath that we visited in March so we went along to Shardeloes and thought what a beautiful building it was. We named our first house in Newquay 'Shardeloes' thinking it was a little village in Amersham, but we found out after that it was a stately home, no wonder we couldn't find it on the map."
Christine Hawgood (née Panter)
Born March 1947. Parents were living in Plumstead, S E London
Gillian Frances Hicks (née Eurich)
Born January 1945 "My father was in the Royal Navy and my mother was in the Royal Air Force. My father at the time of my birth was serving in the Royal Navy at sea still at war. He didn't get to know about my birth for weeks after and didn't know whether he had a son or daughter or even if my mother was alright. He found out when a telegraph was received on board by the Captain who then celebrated the news with him with a tot of Rum."
Michael Holder
Born August 1944. Parents were living in Aston Abbotts near Aylesbury. Now living in New South Wales.
Rita Hopper (née Morton)
Born January 1947 to parents Edward Henry and Florence Lilian Morton. Parents lived in New Cross, London. Now living in Bromley, Kent.
Marion Howden (née Jones)
Born October 1944. "I was born at Shardeloes as my mother was taken there to escape the London bombing. My father was a Rifleman in the King's Rifles and after leaving the army at the end of the war my father went to work in the printing industry." (The images show Marion with her mother and a recent photo.)
Raymond Victor Ives
Born April 1945 to parents William Albert Victor and Ellen Beatrice Ives.
My parents were Evacuated From Penge South-East London Living in Brook Street Aston Clinton, with my sister and my cousin. I was born In 1945 and we stayed in Brook Street until 1950 when we relocated back to South-East London to live at first with my Grandparents, then remained in the area all through my life until 2017 when we moved to Suffolk.
My Father passed away in 1981 and mother in 1987 . I worked in the building industry all my life in maintenance, and then shopfitting, and managed to take early retirement in the year 2000, I enjoy being busy in the garden and playing golf. Married with three children and one stepson, and five grandchildren.
My Mum thought and always told everyone I was born in Sir Francis Drakes Home, when sorting out my family history some years ago my claim to fame was shattered.
Great to be included in the history of the house.
Jonathan James
Born October 1944. Now living in USA.
Margaret Jenkins (née Edwards)
"Born 19th June 1940, the day after Churchill's famous speech. My parents and sister were living in London at the outbreak of the war and I think it likely that my mother and sister went to live in Aylesbury with my grandmother for safety. My father was born and bred in Aylesbury and my grandmother's family had lived in Whitchurch for generations.
During the war we lived in Malvern. My father was elected to Parliament in the 1945 election and we again lived with Nanny in Aylesbury, as it was so difficult to find somewhere to live in London. In 1946 we moved to a flat in Hampstead. From then till 1951 we had frequent visits to my grandmother in Aylesbury, by train from Finchley Road. I used to stand at the window after Amersham to wait to see Shardeloes and say "I was born there." After Nanny died in 1951 my connection with Buckinghamshire was mostly reduced to occasional walks in the Chilterns, until four years ago when my younger son and family moved to Amersham-on-the-Hill.
Once, probably in 1947, I was taken to visit Shardeloes. We walked across the fields from Amersham station. There was someone there, I think, who had been at my birth. And also, I believe, the Matron. My father was by that time a junior minister at the Ministry of Health and may have had taken a professional interest in the future of Shardeloes.
Straight after university, in 1962, I married Christopher Jenkins, who became a lawyer and later Parliamentary Counsel. I started my working life as a computer programmer and, after the children (two boys and a girl) were well settled in school, I went into teaching – maths and IT at a girls' secondary school. Now, in retirement, we live partly in Wales and partly in London. We much enjoy visits to our six grandchildren,in St Albans and Amersham."
John Jessop
John Johnson
Born February 1946. "My mother was very ill at the time and I think a nurse named me and cared for me. I would love to find her name."
Tana Johnson (née Willis)
Born August 1947. "I have a letter written from my dad to my mum at Shardeloes the day I was born. The doctor who delivered me was Dr Helen Davidson who was murdered in 1966 (?) – or so I was told."
Stuart Johnston
Born August 1947
Diane Keable
Born October 1946. "I have lived in Adelaide, South Australia since 1974. My sister Maureen, now lives in Welling, Kent. She married and had 5 sons, all of whom are now adult with families of their own. I never married but have had a partner, Phillip, for over 25 years. Mum and Dad spent their last few years with me in Adelaide."
Joyce Kelly
Born June 1945. Ada May Lambert, her mother, was a combatant in the ATS and evacuated to Shardeloes from Blackheath. She said that unwed mothers were not treated very well and they had to clean the floors.
Suzanne Kennedy (née Fisher)
Born November 1945. "At the time of my birth my father had not yet been discharged from the Army. A Major in the Worcestershire Regiment, attached to the Kings African Rifles, he was out in East Africa until Spring1946. So my mother was staying with her mother, Mrs Jean Heal of Green Meadows, Chalfont St Giles." Suzanne has kindly given the Museum her mother's discharge paper from Shardeloes, a copy of which is shown here on the left.
Robin Kehyaian
Born August 1944
John Keown
Born May 1941. "Both parents were practising Roman Catholics."
Cornelius Brendon Kiely
Born May 1944. His parents were living in Aylesbury.
Peter Klein
Born December 1944. "My mother developed a DVT after my birth and was moved after 2 weeks to Chalfont St Peter to a hospital for a further 2 weeks. My father came regularly on the Met line from Cricklewood to see my mother. I stayed with her during this time."
Mike Lane (formerly Langerman)
Born December 1941. His wife, Eve, runs Laura the dress shop close to the Museum.
James Michael Lawrence
Born February 1946.
Brenda Leach (née Rawlinson)
Born October 1941. "My mother was born in 1910 in the Rose and Crown pub Waterside , Chesham and had moved back to Chesham to be near her mother while I was born. All her family came from Chesham: Hawkes, Finches and Wrights. My parents were living in London but Mum returned to Chesham away from the bombing."
Janet Avril LeFevre (Turner)
Born April 1941. Now living in Linn, Missouri, USA.
My Father's name was Marcus Emile Louis LeFevre and my Mother's Victoria Clara LeFevre (maiden name Jacobo). My family lived in Amersham with my father's sister and her husband until we moved to Shell Haven where my father worked for Shell. My sister, Pamela LeFevre was born in 1939 in High Wycombe. We frequently talk about our childhood in England during and after the war.
Linda Lennard
Born March 1944. Now living in Sidcup, Kent.
Ray Loach
Born March 1946 with parents in Woolwich. Now living in Leicester.
Derek Lockyer
Born December 1946. "My parents spent their life living and working in London until a retirement move to Somerset. I lived and worked in London and Hampstead until gradually returning close to my place of birth, living now in Chenies Village, Bucks."
Christopher Lofty
Born July 1945. "During WW2 my parents home was in Seer Green, my Grandfather, Milton Cromwell Lofty, ran a Bakery business, Lofty & Son's Ltd. My father, Ernest Cromwell Lofty and his brother Milton Zachariah both worked in the Bakery, my dad was called up in 1941 and was enlisted into the Army Catering Corps where he remained until 1953. My older Brother Barry, was born at home in Seer Green in 1942 and I was born at Shardeloes on July 25th 1945. I believe my Dad was away in Norway at this time, his regiment were sent out there towards the end of the war to assist with clearing up."
Norman Long
Born May 1946. His father (in the smart bowler) was a Bank Messenger, having been in the Scots Guards in the war. The picture of Norman is with his maternal grandfather, who was a Welsh miner.
Sheila Lovell (née Barnes)
Born June 1944. "My father was in the RAF. I believe he was stationed at Oakley at the time. My mother and father rented a room at a cottage in Long Crendon during the war and that is where I lived until we returned home to Croydon after the war. My mother used to tell me how the expectant mothers were given 'chores' to do to help with the day to day running of the maternity hospital. One was potato peeling……preparing buckets of potatoes for the daily meals. She also said that whilst she was shown enormous kindness, the atmosphere was highly disciplined.
My sister, who was 9 when I was born, used to go with my father to visit and told of a huge marble fireplace in the front hall beyond which she was not allowed to go!I believe on one night, soon after I was born, Shardeloes was hit by a doodlebug. My mother said she rushed to the nursery where all the babies were lined up in their cots and found me covered in shards of glass from the window. Amazingly, when they were removed, there weren't any marks or cuts on me! I believe no babies were harmed. Quite a miracle.
A few years ago I read in an article in Woman's Weekly that Michael Dennison and Dulcie Gray were living in one of the Shardaloes apartments and I wrote to them saying that I had been born there. By return, I had an amazing hand written letter telling me that it must have been a wonderful maternity home as she had received many letters similar to mine. She also said that the marble fireplace in the main hall was still there. I treasure that letter."
Ruth Lubell (née Behr)
Born February 1943. "My father was in the army, my mother in Chorleywood. I have been living in Israel since 1949, and I'm a qualified architect. My father was a District Judge. My parents passed away in 1998 and 2002."
Charles Frederick James Lunn
Born August 1945. Now living in Australia.
Roger Manning
Born March 1943. "I visited Shardeloes on my 60th birthday and saw the room where I was born (with the kind permission of the then occupier)."
Joyce Marchant (née Stockley)
Born October 1939 to parents John Henry and Georgina Rachel Stockley of Brentford, Middlesex. My birth certificate states I was born in Shardeloes and I went back about 8 years ago and was allowed a quick peep inside the grounds to take a photograph. Now living in Bramley.
Jennifer Martins (née Terry)
Born April 1942. I have been told that I was named after the midwife who delivered me.
Mary Masters (née Cobb)
Born March 1943. "Parents lived in the same house for fifteen years before moving to Old Amersham. Lived there myself until marriage, when we finally ended up living in Clifton Road, a few houses from my childhood home. Finally emigrated to Canada in 1983."
Christine Mathews (née Miller)
Born March 1942. "My father was away doing military service and my mother was living in London being transferred to Shardeloes for the birth. Unfortunately, that is the extent of my knowledge of that time."
Raymond Mattholie
Born July 1947. "I would like to share a truly 'Transatlantic' Shardeloes' Babies story:
While at Shardeloes my mother, Lilian Mattholie, met and started a lifelong friendship with Mary Osborne, who lived in the same South East London neighbourhood (40 miles away). Mary was from Brooklyn, New York, and had met her husband Jack during WWII when he was serving in the British Navy when he was on leave in the City.
In 1950 Mary, Jack and Shardeloes' baby Gretchen moved back to the USA.
My mother and Mary kept in contact throughout their lives, including visits both ways.
In turn, Gretchen and I developed a 'pen-pal' correspondence, and eventually met up when Gretchen came to Europe as part of her studies. In 1968 we visited Amersham together, and this photo shows us on the steps of Shardeloes. Sadly, Gretchen died in a car accident in 1970. I now live in Nova Scotia, Canada"
(see also separate entry under Gretchen Osborne)
David McQuiggan
Born December 1943. "Mother born in Scotland. Father born in London. I married in 1967, still married with two sons and four grandchildren, three girls and one boy."
Paula Miller (née Owen)
Born December 1947. "My father worked in London when I was born at Shardeloes. He was employed by Shell Oil, later Shell Petroleum. He worked for this firm throughout his working life. He served in World War 2 and was in the Army serving in Belgium and other places in Europe and took part in Dunkirk. My mother was a housewife. She didn't work. When the war finished my parents lived in Berkhamstead Road, Chesham with my grandparents until I was 18 months old, then we were offered a new council house in Chesham. I remember my mother talked of making friends with other mums when in hospital and I know she kept in touch with at least one person for many years. I had the impression that I was born at Shardeloes since my mother had lost a full term baby boy by stillbirth two years before I was born. This was in a maternity hospital in Chelmsford Essex and the hospital was blamed for negligence in the delivery."
Sandra Milton
Born April 1946. "Parents moved from London to Chesham when married in 1938. My mother continued to attend Charing Cross hospital for rheumatoid arthritis treatment then was referred to Shardeloes for my birth. My father died 1964, mother died 2003.
Doctors J Lang and Beaton, Student Doctor Pearson, Midwife Sister B Gretton, Nurse Whitehead were the medical staff on duty when I was born at 5.30am on Thursday 11th April 1946. The wards had very strict visiting hours. No fathers were allowed at the birth, after I was born the staff kindly telephoned my father who was lucky enough to have a telephone. He decided to visit as he did not have a car he took the bus from Chesham into Amersham then walked to Shardeloes, to see us but was told it wasn't visiting times and my mother was asleep he could not see her so he had a chat with the Sister who was really sweet, so very understanding and re-assuring. Then he returned at the next visiting times to see us both and he continued to visit sometimes with family and friends during the rest of our stay there. He mentioned the house was a long walk up from the main road, once inside the rooms were palatial like a stately home with very basic beds and equipment . It must have seemed so remote from London where many mothers had come from. I gather my mother had a happy stay, I believe she was in there for about 10 days, the staff were very kind to her during a long labour. These snippets I've gathered from letters and past conversations with my parents. I still live in Chesham, went to local schools and worked for Bucks County Council."
Ann Mitchell
Born February 1943. Twin sister to Susan Cowen (see above).
Patricia Moore (née Harris)
Born January 1945. "I only know that my Grandmother and Uncle (Dad's brother) came to take me and mum back home to London on the train. My father was still in the services.
Colin Morris
Born April 1941. Colin emigrated to Canada in 1966 where he still lives.
Susan Morris (née Stewart)
Born December 1946. "Mum was in the Hospital for two weeks after I was born and she discharged herself on Christmas Eve as she wanted home for Christmas. They went home on the Green Line Bus as they did not have a car. During the war my Mum was a Bus Conductress and Dad was in the Navy. When I was three months old Dad wanted to return to Scotland where we still live."
Terry Mosely
Born November 1946. "Father was Chief Petty Officer in the navy."
Christine Munday (née Jones)
Born January 1946. "I lived in Bermondsey with my parents and grandparents. Dad went to Canada on Court Martial duty. I have had a very happy life. I lived first 7 years in London, then 1953 we moved to Hatfield new town. My sister was born that year. I went secondary school in Welwyn Garden City. I met my husband both there and through church. We were married in 1968. We have 2 daughters and 6 grandchildren. We spent 23 years in South Africa which was a wonderful experience. We returned to the UK in 2002 with all the family. I have been a teacher all my life and even though retired I still coach children who need help or are sitting entrance exams. Both my husband and I are members of Lions Clubs International and have held many positions of responsibility in the organisation. My mother died in 1999 and my father in 2001."
Stephen Musgrave
Born November 1943. "My grandmother Lottie Meakin was living in Amersham at the time. My mother went to stay with her in anticipation of my birth at Shardeloes and presumably to benefit from her help immediately afterwards, although her home was in Brighton on the south coast. Apparently the appearance of numbers of pregnant women staying in and around Amersham in advance of their giving birth became known locally as the "balloon barrage"."
Charles Essex Neal and Ladas Rosetta Neal (twins)
Born November 1945. "The Daily Telegraph birth announcement and pictures from 1949 and 50 years on (above) need no explanation, but the marriage photo (left) was taken at Betws-Y-Coed, North Wales on 4 June 1940, and apart from the bride and groom shows the Welsh clergyman and father's first daughter, June Elizabeth Essex Neal, born 15 June 1922, (later Pearson upon her marriage in 1950, now widowed) who at age 96 lives at the Common, Winchmore Hill, Amersham. She of course is not a Shardeloes baby as nearly a generation separates our half-sister in time.
Father spent all his working life engaged in Life Assurance in the City and volunteered for the Artist Rifles at the outbreak of WW1, was seconded to the Military Police based at Hyde Park Barracks and ended up in the Royal Flying Corps at Tadcaster, Yorkshire for the duration. After his second marriage in 1940 he had to join the Home Guard at Chalfont St. Giles whilst living at Cokes Lane during WW2. He was reluctant to attempt to start another family at his age, but agreed as long as the end of the war was in sight as he did not wish children to be born in wartime. Mother was born 2 October 1907 in Motherwell, Scotland, the eldest of 4 siblings – their mother died of tuberculosis in Stamford in 1917. She matriculated and became a governess in Yorkshire and later North Wales. Eventually she took a post at Father's home in North Harrow, looking after him, his ailing wife and June. His wife died in 1932 after 12 years of marriage and Mother left the house immediately for the sake of propriety but was later invited back to run it and continue to look after June, she and Father marrying 20 years after his first wedding with 20 years difference in their respective ages and Mother keen on attempting a family."
Valerie Noyes (née Connell)
Born December 1940. "My mother was sent there because of the bombing in London. She had a very difficult labour and was very frightened. She was only 20 yrs old and my father was in the RAF."
The memories from Lilian Rose Connell, her mother: "When I was pregnant with Valerie I used to sit in Paragon Park knitting baby clothes but was often disturbed by the air raid warnings and had to dash very swiftly for cover. The war was warming up by then! We were bombed out of our flat after we were married losing a great deal of our possessions. Dreadful to come home from the shelter one morning to see all our belongings scattered everywhere. We stayed with my mother for a week and Alfred had to transport all our furniture etc. to various places for storage. Unfortunately my mother's house was also made inhabitable by a land mine in the road ,so once again a lot of our furniture was damaged. The blast from the land mine had blown all my lovely knitting into the garden, where we found all the baby clothes blown up into the trees – not a very nice picture!
My mother and father went to stay with my sister at Brockley and I was sent to Lambeth Hospital for admission as I was ill and had nowhere to live. The hospital said it wasn't a good idea to stay there because of the frequent bombing.so we arranged for me to go to Amersham where I could be assured of rest. October 14th was a very sad day for me and Alfred to be parted. Little did we know I would be away for 3 months! Alfred stayed with his mother and used to visit me as much as possible by Green Line coach. I felt very anxious for him living in the dangerous bombing area,he also did a rota of firewatch /firstaid duty.
Valerie was born on 10th December 1940 ( with complications). Alfred bought me a gold wristwatch to celebrate … I still have it! I was discharged 19th January 1941. The nursing home wanted me to stay on and work in the nursery and office as they knew we had nowhere to live, but I wanted to go back. Alfred had managed to rent us a maisonette in Barnehurst, Kent."
Gretchen Osborne
Gretchen passed away in 1970, this information is written by her sister, Mary Alice Osborne
Born July 1947. My mother Mary Osborne came to England from the United States in 1945 after VE Day to be with my father Jack Osborne who was serving in the British Army. They had met at a dance for British servicemen on Staten Island in New York in 1943 during WWII and were married in October of 1944. Mary became pregnant and was sent to Shardeloes in Amersham to give birth to my sister Gretchen in the summer of 1947.
My mother remembered her time well at Shardeloes and reminisced with us many times telling us stories of her adventures there. She spoke of the 2 foot thick walls of the building, which she said were like those in a castle. She enjoyed walking together into Amersham with her friend Lilian Mattholie, both were very pregnant, and the townspeople staring with great concern at them.
She remembered after giving birth to my sister Gretchen, of being allowed to "dangle" her feet over the edge of the bed a few days after giving birth, but not being allowed to get up and walk around for at least a week, which was so different from the present time with mothers going home the same day after giving birth! Mother spoke of being given the old-fashioned remedy of senna pods for constipation and how she and the other new mothers in her ward would wait until the nurse left the room and then stealthily toss them out the open window rather than to have to take this "terrible" cure.
My parents and Gretchen moved to the United States in 1950 and eventually made their home in beautiful, rural Washington, Connecticut. As she grew up, Gretchen loved to travel and spent a year as an international student in Finland in 1963. She went back to Finland and to England several times and kept in touch with fellow Shardeloes' baby Ray Mattholie and his parents. Gretchen went on to college and graduated and began a life on her own in 1968. Tragically, she had a fatal car accident on November 15th, 1970 on her way home to spend Sunday dinner with our family.
Gretchen was a very artistic and creative person who was always laughing and enjoying life to the fullest. She died with so much of life still ahead of her. We have always wondered what she might have done with her life and she has been so missed by us all.
(see also separate entry under Raymond Mattholie)
Kathleen Osborne (née Atkins)
Born July 1947. "My mother was in service to the family at Shardeloes when she was about 15, as a parlour maid. It must have felt very strange to go back when it was a maternity hospital and it was full of babies."
Marilyn Osborne (née Cook)
Born January 1945. "Mum in Waddesdon, Dad serving with Royal Artillery. I was told that I was a breech baby and it was a difficult birth."
Richard Mackay Page
Born July 1943. My Father was in the Ox and Bucks LI, probably in N.Ireland at the time of my birth. My Grandfather, W L Johnson, was a GP in Chesham and retired in about 1965. He lived at Lindley House, Church St. He gave anaesthetics at Chesham Cottage Hospital. I do not know if he attended Shardeloes, either as an Obstetrician or Anaesthetist. We moved to Surrey in 1946 and I qualified in Medicine in 1969. Having spent 5 years as a Naval Anaesthetist in 1977 I became a GP in Yealmpton, Devon. I retired in 2006 and now live beside the River Yealm in the village of Newton Ferrers, Devon.
I heard of this event through a friend who lives in the same village as me and has a flat at Shardeloes. He tells me his bedroom was the labour ward so we always joke about the fact that I was born in his bedroom. An odd quirk of fate occurred in 1970 when I was working as a junior doctor at the St. Pauls Wing of Hemel Hempstead Hospital. I admitted a very ill man who told me he was a retired Registrar of Births and Deaths. His name, W.E.Stokes, appears on my Birth Certificate. Fortunately he survived his admission, otherwise my name would have appeared on his Death Certificate!
Barry and Derek Parker
Twins born July 1947.
(In the small photo (1948) Barry is on left, in the larger one (2003) Barry is on the right.)
Barry has written about his life: "My name is Barry Parker, and life began at 2.45 am in Shardeloes on the 4th July 1947. An hour and half earlier my twin brother was born, his name is Derek Parker. We were the sons of Arthur John Parker and Ivy Jean Parker. My father was 41 and mother 44. We lived at the Nag's Head Whielden Street, Amersham and were introduced to our sister Alma Jean Parker. She was 16 at the time, so we had a different brother sister relationship. When we were three our sister, now 19, got married to Donald Robert Hinckley at St Mary's church in Amersham, and we were page boys. I remember we had our grandmother (mother's mother) living with us at the time and she is buried in a graveyard at the rear of the Nag's Head.
We went to school at St Mary's Junior school in Amersham, I don't remember much about that. I do remember coming home from school one day and the bank on the corner of Whielden street and High Street was closed and a picture in the window of the King, and was told the King had died. Although my father was licensee of the Nag's Head it was only a beer house, not licensed to sell wines and spirits, which was common at the time. He applied to the Council for a full license but was turned down, because there were too many pubs in Amersham, and alcohol abuse was on the increase. He was disappointed with their decision so in 1954 sold the pub to Eric Rance, who was the fishmonger in the High Street.
We then moved to Henley on Thames to the Royal Hotel on the river bank. We started school in Henley but the problem I found was that they were doing joined-up hand writing and we had never done that. It only sounds a small point, but at the time it was a big problem. I really enjoyed myself in Henley, lots of places to play along the river bank. We were only seven and eight at the time but we played out by ourselves, (We would be taken into care for neglect in this day and age.) One thing I do remember of that time is, in 1954 my father bought a new Standard Vanguard and one day Derek took the hand break off the car, and it rolled into the Thames. For some reason we didn't stay in Henley very long and in 1956 we moved to Bedfont in Middlesex where our parents bought a café.
We went to Bedfont Junior school which was uneventful really, but they did have a rule that you must not walk on the grass. We didn't stay to school dinners, all I can remember about that was boiled cabbage and tapioca. One day we were walking home for lunch when the head (Miss Marriott) was sitting in her office looking out of her window when she saw one of us put a step on the grass verge. After lunch we were called into her office and she wanted to know which one had done it, and we didn't know, and because she couldn't tell the difference between us, we both got the cane.
In 1957 we left the cafe and had a private house, still in Bedfont. We joined the boy scouts and went to St Mary's church where we were confirmed. We also joined the church youth club, but you couldn't be in the club unless you went to church, and here we were introduced to girls. September 1958 we started senior school at Longford County in Feltham. This was four years of hell, never a week went by without being caned, slippered, knuckled, often I couldn't write because of blisters on my hands. This was not because we were naughty, far from it, if your homework was not completed on time, if you couldn't grasp something, you were caned, they were sadistic. School was not a place of learning; it was something you had to survive, by keeping your head down. In 1960 the girls at the youth club left and joined a dancing school in Hanworth, so reluctantly we went as well. Surprisingly ballroom dancing came easy to us, and after taking lots of medals we joined a formation dance team, and gave demonstrations around the London area.
July of 1962 we left school with no qualifications, there was no 6th form then, when you were 15 you left school and got a job. We both got a job at the Premier supermarket store in Hounslow West. Due to my father's work, in January 1964 we left the London area and moved to Birmingham. I couldn't understand a word they were talking about, but soon I was picking up the accent. Six weeks after my 17th birthday I passed my driving test and bought a mini. I then got a job at Brazils sausages and pies whose head office was in Amersham. I was on the promotions team and had to promote them in stores in the area.
In 1970 I got a job at McVities Biscuits as a salesman, I also got married to a lady called Linda, and (coincidently Derek married a Linda.) That lasted until January 1976 when we divorced. In January 1976 I started my own food distribution business, and two years later went into business with Derek and formed a partnership, called Meadow Foods.
In 1979 I met and married Jackie, she worked in a shop I delivered to. I was now 32 and she was 2l. We went on to have three lovely children, Rachael, Sarah and Andrew. We decided to retire at 60, so we sold the premises and business, and on the 1st July 2007 cycled with Andrew from Land's End to John O'Groats. I have had 6 grandchildren and I feel life is just beginning. I see Derek every Friday night and buy him a drink, and I live in hope that one day he might buy me one.
I missed out a lot with my own children whist they were growing up due to work, so now I am making it up with my grandchildren. I never miss an opportunity to go to school plays, sports days, and graduations. This August we are looking after, 3 children, 4 chickens, and two guinea pigs. My plans for the future are, to have lots of holidays and when I reach 70 in two years time, to cycle the other way, from John O'Groats to Land's End. It may be easier downhill."
David Parsons
Born September 1940. "Mother evacuated from London. Father various postings in Hampshire." Now living in Australia.
Mike Payne
Born April 1944. "My parents were both in the RAF/WRAF and were stationed at Medmenham. I am a professional cartoonist/illustrator and my claim to fame is that I created in 1987 and drew for 17 years Me to You's "Tatty Teddy" the grey bear with the blue nose. This little character sold on greeting cards and plush in over 94 countries worldwide."
Alan Stewart Pearce
Born March 1941. Parents were Edward Pearce and Dorothy Pearce of Bermondsey, London.
Terence Pearse
Born May 1941
Geoffrey Perkin
Born October 1947.
David Perry
Born July 1945.
Malcolm Petrie
Born February 1941. Father was a fireman stationed at Greenwich.
Barbara Ann Phillips (née Robinson)
Born June 1942 to parents William and Gladys Mary Robinson of Barking, Essex. Barbara was a twin, her brother Christopher John Robinson was sadly killed in a bombing raid during the blitz when aged two.
Barbara met her future husband fifteen years later who, coincidentally was also born at Shardeloes, Leslie Alan Phillips (see below entry). Together they had three sons.
Leslie Alan Phillips
Born May 1942 to parents Annie and Albert Phillips. Married to fellow Shardeloes baby, Barbara Ann (see above). He was in the London Fire Brigade.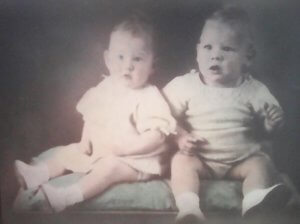 Christine Pickering (née Baker)
Born February 1943. "When my father left the army we moved to London, where I lived with my parents and younger brother until I married in 1966. My parents later moved to Northamptonshire. My father died aged 92 and my mother reached the grand age of almost 101, passing away in May of 2014."
Graham Plant
Born September 1947. "I always knew I was born in Amersham, only recently did I realise that this event was at Shardeloes ….confirmed by another look at my Birth Certificate! My parents married in 1942 while my father was on leave from the Army. His family mainly lived in the Holloway/Islington area. I was taken home to Upper Holloway where we stayed until I was about 10. We then moved to Tottenham and I stayed living with my parents until I got married to Pam. We then moved to Stratford upon Avon for a couple of years before moving back to London living in Enfield and then Woodford Green. I have recently retired after working in Insurance for a good part of it and as a self-employed Insurance broker for the last 23 years."
Janice Plant (née Gould)
Born March 1942. "My mother was born in 1913 and grew up in Shardeloes Road, off Amersham Road, Brockley, S.E London. How strange then that she should be sent to Shardeloes in Amersham for my birth in 1942!
My father, a comedy actor, kept moving house during the war to "dodge" the bombs so by the time of my birth my mother was living in North Kensington. My mother told me later it was not unusual to see a little mouse scurrying across the floor at Shardeloes, she was always scared of mice!!
Although I had opportunities to follow in my father's profession I decided it wasn't for me, instead, I worked for two petro-chemical companies arranging business travel for staff members. My own son was born in 1977 and I later worked at his old primary school, until my retirement, as a Learning Support Assistant for children with autism and tourettes syndrome, a job I found very rewarding.
My father died in 1962 and my mother in 1994, I miss her a lot and I know she would have been thrilled to know I was in communication with Shardeloes.
Susan Pollock (née Beckingham)
Born August 1944. "My mother and father had moved out of London and had lived for a while with the Gibsons in Rose Cottage, High Street, Old Amersham and later in First Avenue.
My mother had a long labour, but eventually phoned my father to tell him he had a tiny, dark-haired little daughter. He walked to Shardeloes and went to the Nursery giving his name as Mr Beckingham and was presented with a big ginger-haired baby, which was quite a shock for him until it was found to be baby Buckingham. I came to the tea party [at the Museum] in the hopes of meeting Mr Buckingham, but sadly he wasn't there."
Hilary Povey (née Stevens)
Born May 1946. "I was born on a Saturday at 4pm. As Mum was not too well we were transferred at some stage to THE LAWNS at Chalfont St. Giles. (Between St Giles and Little Chalfont)"
Margaret Powell (née Thorne)
Born July 1944(?). Mum had to catch a bus from Croydon to meet up with the coach which was taking her and the other pregnant mums to Shardeloes. She boarded the.bus and was told by the conductor "I don't think we'll get through as the whole of Streatham High Street is down as there's been a land mine " The bus 159? did make it and I was safely born in Shardeloes.
Suzanne Powell
Born August 1941. Suzanne remembers mother, Margaret, telling her about a lake with swans and that she would never eat porridge again as she was given so much of it at Shardeloes!
Shirley Price
Born February 1947. Her sister reports: "I know that 1947 was the year of the deep snow drifts and that made it difficult for my father George Edward Price to visit and to take my mother home with Shirley. Unfortunately Shirley has died."
Albert Ratcliff
Born November 1940. My parents were living in Fentiman Road near the Oval cricket ground from 1939 when they were married. My father was an Auxiliary fireman, following being in a reserved occupation the premises of which were bombed. My mother was sent to Shardeloes in November 1940 to have me, during the height of the blitz. We stayed at Fentiman Road until April 1943 when we moved to West Norwood (my mother continued to live there until she died aged 95). I was educated in Kennington. I remained at that address until I married in 1967.
We lived in Copthorne, Sussex and later moved to present address in Lindfield, Haywards Heath, West Sussex. We have two sons and two grandsons living in the general area. I was employed as an Insurance Surveyor travelling about London, Surrey, Kent and Sussex. I am a member of Surrey County cricket club and attend the Oval from time to time and support Crystal Palace football club so still have a presence in the general locality. Amongst hobbies I sing and have been doing so for 30 years with Ardingly Choral Society.
Charles Samuel Redfern
"My mother gave birth to me in January 1943 and my father was killed in battle in May 1943, never seeing me his son. My mother was a war widow till she passed away in December 2013 aged 96."
David Reed
Born March 1945. Parents then living in Herne Hill, London.
Rosemary Ann Sherley Renouf (née Lawrence)
Born June 1942 to parents Henry Pelham and Gladys Mary Lawrence. At the time living at Heath End, Hawridge and Cholesbury near Chesham Bucks. They came to live at Heath End after their house in London was bombed. I had an elder sister Margaret. My Father was a sales man at Harrods of Knightsbridge in London. And travelled by train to London each day through out the war.
During our time at Heath End, in 1944 a doodlebug dropped on Glebe House very near to where we lived and as my mother my self and sister Margaret were out walking that day on hearing the cutout noise of the bomb my mother and sister dived in to a ditch leaving me standing in the lane. The force of the bomb picked me up and lifted me down the lane, where I was cut and bleeding. My mother scooped us up and ran to Glebe House (owned by Dr. Ellis) to see if anyone was hurt. Two elderly ladies were hit by flying glass but otherwise alright. They told my mother to takes the little dears home as by now I needed looking after.
We spent 8 happy years at Heath End cottage, attending the local school on the common. Moving to Amersham in 1950. Now living in Downham Market, Norfolk.
Dr. Peter Renton (born Reichenbaum)
Born February 1944, and died in 2003. The Reichenbaums were Czech Jewish refugees who had escaped in the nick of time from the Gestapo. They already had one son of school age, George, who had been born in Czechoslovakia. Before and during the war the family was allocated rented rooms in Barnet, Hackney and Finsbury Park. After the war they lived in Stoke Newington.
Alfred worked in a factory for a firm in Bourne End – Hendrey Relays, which made relays for aircraft. He had to report to the local constabulary every week, presumably because he was an alien. 'Aliens', it seems, included those in England whose countries had been over-run by the Nazis. The family was living in Marlow. The letter is addressed to the Czech Ministry of Defence, so perhaps Alfred had been called up for the Free Czech Forces and had got an exemption letter to show them that he was doing necessary war work.
In 1963 George and Peter changed their surname by deed poll to Renton, as no-one could read, pronounce or spell the name Reichenbaum. Peter was a radiologist working at University College Hospital and the Royal National Orthopaedic Hospital). He wrote The Lost Synagogues of London, published in 2000.
Brian Revel
Born June 1947. "Lived in Amersham for two years and in Chesham since. My family came from Amersham, mother's from Chesham."
Carol Rhodes (née Phillips)
Born September 1946. "Mum says that she was sent there for 3 weeks. My dad came down to see her. Mum is still alive but has dementia. Weight-6lbs 12oz."
Anthony Rickaby
Born October 1944. Father took part in D Day landings and was killed on 11th February 1945. Mother, Mary, remembers that patients had to help and that the Catholic Sister walked some women to Mass on a Sunday. She also remembers a large grey building with a veranda and sash windows.
Tim Rice (now Sir Tim Rice, Lyricist)
Born November 1944. His father's diary entries mention Shardeloes several times, often spelling it incorrectly. Mother and Baby stayed until 27 November. His father was in the Army and his mother was in the WAAF as a photographic interpreter.
Peter Rolfe
Born August 1945
Brian Victor Rose
Born April 1944
My father, Victor Bertram Rose was a native of Hazlemere, Bucks and was in the Army at the time of my birth. My mother, Elsie Margaret Rose was from the East End of London and moved here with her family in 1941.
I have lived in High Wycombe all my life.
Victoria Ann Patricia Rose (née Ross)
Born May 1943. "Father was in the Royal Signals, Mother in the W.A.A.F.s" "I was married in 1964 in the old Amersham Baptist church; prior to coming to South Africa my husband and I lived in Kent. We have two children, boy and a girl both born in England, we all now live in SA along with our four grandchildren."
Irene Rowley
Born October 1947. Now living in Surrey.
Irene Russell (née Baker)
Born June 1946. My parents met whilst both serving in the RAF. It was a whirlwind romance and in January 1945 they had a wartime wedding and eighteen months later I was born at Shardeloes! Mum and Dad lived with my grandparents in rented accommodation in Highbury, North London. I am not entirely sure why Mum was evacuated to Amersham, but it could be due to a lack of maternity beds in and around Highbury & Islington; or the poor living conditions were not suitable for a home delivery. They lived in a small terraced house with no running hot water, no bathroom and no heating. There was also a lodger occupying one of the rooms.
As far as I am aware Mum stayed at Shardeloes for 6 weeks. She told me that some of the expectant mothers had to do various household chores during their stay.
Even though the war had ended, food was still rationed and I cannot imagine just how difficult it must have been making the meagre amount of food go around, only supplemented by the lovely tomatoes and runner beans from the garden. We continued to live with my grandparents in Highbury and my Nan did most of the cooking. Living in inner London in those post war years was a bit like living in a village – everyone knew each other and their business! All the neighbours were called Aunt or Uncle and you could never walk along the street without bumping into someone and stopping for a chat.
As the years passed and rationing ceased, things got a bit easier. We didn't have holidays, but we did enjoy occasional days out to the seaside. These trips were usually street outings, which were paid for by putting a few pence away each week for several months. Everyone looked forward to these day trips and they were immensely enjoyed by adults and children alike.
My primary school was a stone's throw from the Arsenal football ground. In those days all children had to sit the 11+ examination. Sadly I didn't pass, so had to go to a secondary modern school. During my time there I had the opportunity to go on a school trip to Austria. My parents went without to enable me to go on this trip. I left school at 15 – in the 1960's it was easy to get work. In fact if you didn't like one job you just left and got another straight away. I got a job as a junior in a travel agency – this inspired my life-long interest in other countries.
I continued to live with my parents in Highbury until I got married. Our first marital home was in a small and dingy flat just around the corner from Mum & Dad. In 1971, Roger and I moved to Colchester to buy our first house. Subsequently, we moved to Farnborough, Hants and finally Swindon, Wilts for the last 30+ years. We have four children in their thirties & forties now, plus two grandchildren. Roger & I retired together in 2006 and since that time we have travelled extensively, visiting many countries around the world. Our daughter lives in New Zealand, so that gives us the excuse to travel.
I feel very privileged being one of the "baby boomer" generation. Over the decades I've witnessed so many wonderful things that my grandparents and parents would not have thought possible. Likewise, my children could not conceive of the way we were in the 1940s & 50s!
Timothy Ryan
Born September 1942. "Dad was in RAF when I was born. Did not see me for 7 days till he got leave."
Jackie Scull (née Addis)
"Dad was in the RN through WW2 serving on submarines. Around the time of my birth, he was away a lot, ferrying surrendered & captured German U-Boats back from Russia to England.
In 1949 we moved to Australia & then on to New Zealand. We returned to England in 1960 & lived in Canterbury in Kent until 1963 – when we returned to NZ. I met my husband shortly after & we have now been married for 50 years. He was born in & originally from Wiltshire but went to NZ aged 6. We moved to Australia in 1992. We have 2 daughters & 5 grandchildren."
Eric Ronald Selmes
Born December 1940. "Father a stoker in Royal Navy."
Sally Sharp (née Evans)
Born September 1946.
Diana Shorey
Born June 1942. "Father was an RAF Officer, whereabouts unknown at the time. He was on a ship on the day in Bombay (now Mumbai), India. They had both been living in Singapore which was bombed on 7/12/1941 by Japanese on the same day as Pearl Harbour attack. Parents had no news of each other for six months. Long story but grateful to be alive and not killed or in a POW camp. I worked at Burmah-Castrol, an oil company in London, then in Brussels at Nato and at a UN agency in Geneva."
Vera Skinner
Born May 1941. "Father was abroad fighting. Mother was staying with her sister in Aylesbury." (The photos show Vera on her 75th birthday and her parents).
Angela Skrimshire (née Shaw)
Born November 1942. Father was doing reserved occupation in Old Amersham before joining The Fleet Air Arm; he was a navigator. Parents moved out from SE London to Winchmore Hill. Sister to Madeleine Fletcher, also a Shardeloes baby.
David Smaldon
Born August 1945. "Parents married in 1938 and moved to Lewisham. Mother had antenatal and postnatal care at Lewisham Hospital. I was an only child. Family moved to Hassocks, West Sussex in Nov. 1954. Parents both died there."
David Smart
Born October 1946. "Dad was serving with No 2 Commando. I have a brother and a sister. I served with 2 Para, then a London Taxi Driver for 36 years."
Violet Smart (née Cracknell)
Born October 1947.
Leonard Smeath
Born June 1942. "My Mother gave me a half of a pint of Blood as I was a casualty of my Parents' Blood incompatibility. I was the 3rd baby to be given this treatment as about 700 babies each year did not survive in the UK before that date. The rest is history as the Blood Transfusion Service was to save thousands of lives. My Father was a D Day veteran and of course the reason for my birth in Amersham was that most women in London in 1942 were evacuated for the birth. As I said my own difficulty was with my Blood. My parents had recently been moved from Holloway as their house had been bombed. My sister who was 7 years older was evacuated to live with a relative in Cumberland. Dad came home in 1945 and as a result of the beach bombings had lost his hearing. He died in 1990. My Mother lived to a good age and died in 2001. I married in 1967 and after 28 years in Tottenham, moved to Dunstable for another 28 years. On retirement my wife and I moved to Norwich in 1998. I have 2 children ie David (teacher) age 44 and Linda (physiotherapist) age 42. I consider that I have been mightily blessed considering that they only gave me 6 days to live."
Jennifer Smith (née Hart)
Born October 1947. "My father died aged 72 of a massive stroke. My mother died of Leukaemia a few years later. I have Parkinson's Disease and moved to the coast with my husband in 2010."
David Spencer
Born September 1942. His parents lived in Aylesbury at the time and he now lives in Surrey. "As a family we left Aylesbury in 1946 and returned to London (Wandsworth) where we all stayed until dispersal (ie getting married etc). Mum passed in 1992 and dad in 1998. For my sins, after a short but varied start, I settled down to a lifelong career in banking; married to Sally in 1968, two daughters and seven grandchildren, now living in Epsom. Sadly nothing spectacular to report."
Robert Spicer
Born January 1945. Father was ARP warden during WW2.
Josephine Stacey (née Tucker)
Born November 1942. "I only found out 7 years ago that my biological father was killed in the war. Until then I always believed the man I called 'Dad' was my actual father. An uncle of mine told me. Both my parents are now dead. So many secrets never divulged – my sister, brother and I always felt there was something 'not told' about our past. My name changed from Tucker to Vandenbosch in 1948, after I started school. Whether I was formally adopted I don't know, but I did get a copy birth certificate dated 21 March 1950 which showed H R Vandenbosch as my father. As it happens my 'parents' did not marry until 1969 – but to me they will always be 'Mum & Dad'."
Christine Stammers
Born October 1942. "My parents lived in a basement or garden flat, I don't know what number. They moved to Norwich when I was about 2. Mother a secretary, father an electrician. I was a teacher, my brother a production manager for J J Lyons. He died about 20 to 25 years ago."
Kay Stranger (née Thurlow)
Born March 1945. "Dad was in the army, Mum came from Brixton, London. Mum is still alive and remembers Shardeloes well. Mum had been evacuated from London during the war and was staying in a house called Innisfree, which I think was in Amersham that is why I was born in Shardeloes.
Dad was a regular soldier and wasn't demobbed until 1947. We lived in Brixton for most of my childhood. Mum and Dad produced three more children all boys. I got married at 19 and was widowed with two children at 24. I got married again to Bob and had two more children; we are a big happy family. Mum is a sprightly 92 much loved by her children, grandchildren and great grandchildren. She often talks about Amersham and the time she spent there. I have been back to look at Shardeloes several times it is such a beautiful house; maybe my birthplace inspired my love of history.
Anthony Sturley
Born June 1943. Now living in W Australia
Maureen Swadling (née Webb)
Born September 1942. Mother lived in Battersea.
Anthony Swainson
Born at Shardeloes in December 1947 to parents Bertram Charles Swainson and Harriet Swainson (nee Laverick).
We moved back to Chester le Street about 1950/51 where I lived until I went to Manchester to study music at what is now the Royal Northern College of Music. I moved to Glasgow in 1971 to take up a post as Principal Tuba in the BBC Scottish Symphony Orchestra. I still live there (retired from the BBCSSO in 1997) where I still work part time as Professor of Tuba at the Royal Conservatoire of Scotland. My father died of cancer in 1971 but my Mum is still alive and will be 96 in May. She lives in assisted living accommodation in Chester le Street. I now live in Bearsden.
Margaret Swindon
Born June 1947. Lives locally.
Derek John Somerset Taylor and Michael Norman Somerset Taylor
Identical twins, born November 1942 to parents Charles Norman and Isabel Kathleen Taylor of Green Lane, Amersham.
Both were successful professional cricketers. Derek played for Surrey, Somerset , Griqualand West and the MCC. Michael for Nottinghamshire and Hampshire."
Derek now lives in Queensland, Australia.
Michael Norman Tedbury
Photos below from left to right: Michael taken outside Shardeloes on the 5th December 2001 on his 60th Birthday; his Sister Hilary and Michael in the pram; Mum, Sister Hilary and Michael in April, 1944; Michael at Primary School.
Born December 1941. "Mother and daughter were living in St. Johns Wood, London NW8; evacuated to 79 Vale Road Chesham. Father was serving in the REME, based in Middle Wallop at the time of my birth.
Margaret Tee (née Pearson)
Born February 1941. Parents lived in Walworth, London but moved to the North East some months after Margaret's birth.
Catherine Bridget Thomas (née McNally)
Born December 1940. Now living in Coventry, parents were Thomas McNally and Margaret McNally (née Maloney) of St Pancras, London. Thomas served in the RAF during the war. The family moved to Coventry after the war where Thomas worked for GEC.
Cynthia Thomas (née Foreman)
Born March 1942. "As I have been recently traced by my brothers, I know that my mother's husband had been missing presumed dead at Dunkirk. I assume she was a widow when she met my birth father. She already had two sons but they never knew about me. The fact came to light when my youngest brother was doing a family tree for another brother and my name came up under my mother's name – Jeanette Foreman – as adopted. He then started searching for me with very happy results. My brother took me to Shardeloes and the caretaker was kind enough to show us round. This was in 2009.
Born August 1946. "We moved to Fulham in 1952 where my parents had a dairy & grocers until 1972. I married my wife Susan in 1967, looking forward to our golden anniversary next year." Now living in Surrey.
John (Nick) Thompson
Born June 1944. "I was conceived out of wedlock, my mother's husband having been away on military service for some years. I only discovered that I was born at Shardeloes when I traced my origins just a few years ago, having been put up for adoption by my natural mother just a couple of months after my birth. Years ago, before we knew about my birth parents, my wife used to joke that perhaps I was the son of a prince, so when I discovered that my natural father was named 'Frank Prince' we could hardly believe it! But at least I was born in a stately home, surely something to boast about?…"
Margaret Thorne
Born July 1944. Mother, Betty, was evacuated from Croydon due to a VI attack and arrived via a 59A bus to Brixton then a coach to Amersham. Described Amersham as " pretty quiet country town and a safe haven" and Shardeloes" a beautiful white mansion set up on a hill". She remembers that the wards had large casement windows and would look out at the sky and listen to all the country sounds at night.
John Tolson
Born May 1945. "Birth cert states " Shardeloes" Amersham. Father born in Rotherhithe, SE16, Mother born Greenwich, lived in Bermondsey all of her life."
Mavis Tracey
Born June 1942.
Roger Frederick Trayling
Born March 1946
Paul Trumper
Born August 1943. "Mother was living in Aylesbury, father serving in the war with the RAMC."
Lana Turner
(from left to right above: Lana; Lana with son Robert and daughter Debbie; Lana with granddaughter Sharree; Lana with granddaughters and grandsons.)
Born April 1945. Information from grand-daughter Sharee Spence: "My Nan, Lana Turner, was born at Shardeloes Hospital in the old town of Amersham. My parents now live in Australia – my Nan passed in 2012."
Tony Vallance
Born June 1941. "Although I knew that I was born in Drake's House in Amersham, Buckinghamshire, I do not remember my mother saying a lot about the house or her evacuation. Of course, that may be just my memory! Unfortunately, she died young and I never did get to ask her about it. In 1940 she was living in South Bermondsey and my father was in the Navy. She must have been under the Heinkel bomber in that famous photograph of the German Bomber over south London taken September 7th, 1940! The street that I eventually grew up in can be seen in the photograph with all of the houses intact. Not the way that I remember them, although I don't think they were destroyed in that particular raid. I do just about remember air raid sirens, air raid shelters, etc. Apparently, I survived some near misses during the air raids. Later, we were evacuated as a family to Walsall in the West Midlands and I have vague memories of being there.
The photograph shows me with my mother when I was about one.
I went to Ilderton Road Primary school and then to Colfe's Grammar School in Lewisham. I was interested in radio and electronics and after Colfe's I did an industry-based sandwich course which resulted in a degree in Electrical Engineering. I worked for some UK electronics companies and eventually a job opportunity led me and my newly married wife, Mary, to Massachusetts, USA in 1968. Further education and very interesting work has kept us in the Boston area of Massachusetts area ever since. Retired since 2003 we now live on Cape Cod. We have two sons and four grandchildren all living in Massachusetts. We have been fortunate to have been in constant contact with family and friends in the UK and we visit the London area very regularly.
I found out about the Shardeloes Babies list and the Amersham Museum from some web searching regarding Drake's House. A spring visit in 2016, took us to Amersham and the museum. We did visit Shardeloes (outside only) and took a few photographs. Certainly, a very impressive place to be born!"
Kathleen Wachholz (née Cutting)
Born at Shardeloes on September, 1944 – the 3,000th baby. Father Albert and mother Grace Cutting, evacuated from Tooting, London to Amersham.
I have a paper clipping of a visit by the then Princess Royal on September 12, when I was 9 days old. I guess I had my 15 minutes of fame at an early age".
I was orphaned November 18/52 – adopted Dec. 7/52 – only info. about family was from my memory at age 8 – name was changed by adoptive parents to Kathleen Dorothy Holt.
Now living in Canada. (Information from http://www.amersham.org.uk/ww2/).
Chris Waller
Born April 1946. "Father ex POW Poland or Germany."
Frank Wallace
Born July 1944. "My mother was a GI bride. My parents meet while my father was serving in the US army and my mother in the Land Army both of whom have long since passed on. After the war we sailed on a GI bride ship to join my father in the US, but sadly the marriage only lasted long enough for my two brothers to be born and we returned to the UK. My mother never remarried but my father did and had children whom I am in touch with today."
Jacqueline Walsh (née Jonas)
Born September 1944. "My dad was in the US service stationed in Southhampton." Now living in Michigan.
Keith Walters OBE
Born January 1941. "Both parents deceased. I lived and worked in Southwark until 2007. I received the OBE for services to Boxing in 2013 and am now President of England Boxing and Hon Sec to London amateur boxing. I have been married for 51 years and have four children and 9 grandchildren."
Maureen Ann Elizabeth Webb
Born September 1942. "I think my pregnant mother moved to an aunt's house in Rickmansworth. She owned mustard and cress fields in Rickmansworth. I think my mother's aunt's surname was White."
James Wells
Born November 1947. Parents lived in Brockley in London.
Rory Westerby
Born November 1940. "I was one of the original Rock and Roll singers in the UK. 76 years later under the name of Rory Wilde I am still singing having made many records and appeared many times on TV in shows such as The Voice, Songs of Praise and 6.5 Special."
Doreen Whinfindale (née Hill)
Born September 1943. "Father fighting in Arnhem."
Joseph Whiting
Born September 1941. Father was a docker, mother was living in Bermondsey.
Robert Franklin Williams
Born September 1940.
My grandmother was living in East Ham and got the last train from London to Northwood Hills. This was August 1940, my Grandfather was away serving at our coasts monitoring radar as he was an electronic engineer.
My Grandmother Grace was given an address to go to in Pinner/Northwood Hills but upon arrival she discovered it had been bombed, she was 8 months pregnant and no where to go, some Nuns took her in and she stayed in a house overlooking Northwood Hills Golf course where she would watch the horizon on fire (London) with the Nuns at nighttime.
She was sent to Shardeloes to have her first child Robert who was born on 14th September 1940. She stayed there for two weeks afterwards until my Grandad got her a new home in Lyndhurst Avenue Pinner.
We live in Abbots Langley and my Uncle lives in Norfolk. My grandmother died in 2008 aged 94 years she often spoke of her times at Shardeloes.
Richard Williams
Born December 1946, to parents John and Elizabeth Mary (née Seabrook) of Amersham.
Mother was born in Amy Lane. Chesham from a local family Bates, during the war she worked making radios at a factory in Nashleigh Hill . Father was an ex miner from Wales moved locally to Amersham following elder brother in 1935. My father was demobbed in 1946 , When I was born in December it was one of the coldest winters last century. No buses, running and my father walked to Shardeloes telling me he must have slipped over on ice and snow at least ten times. I was in an incubator for quite a while. The midwife lived later in Chesham , where we also moved to when I was 2, and my mother used to point her out to me. She was very tall, over 6ft , very unusual for a lady then. She had also told my mother when I was born that I would be tall ( I'm 6ft 3″). I went to school locally Chesham Grammar ( tech then), and have mainly lived locally. I see my old birthplace regularly as I live very close in Little Missenden.
One very funny incident in the 80's I picked up an American work colleague, He was fed up staying in London hotels and I asked if he'd like to stay at my house as we had plenty of room. Completely coincidentally as we were passing Shardeloes he asked me if I'd always lived in the area and where was I born? I nonchalantly pointed to the house magnificent in the Summer evening Sun and told him " I was born there ". He looked at me oddly, and in the American vernacular said " AREr YOU Shi,,ing me?" I assured that I wasn't and during his stay did not let on the true circumstances.
Michael Willson
Born October 1945. "Parents moved 3 years after the war to a council estate in Kidbooke SE London. Dad became painter and decorator and mum a part-time factory worker At the age of 50 she got an OU degree and became a teacher at Kidbrooke school I graduated from UOL and became a chemistry teacher in several comprehensive schools and finally a science education lecturer at the University of Sussex. Married Sally in 1973 – have 2 children and 4 grandchildren two of whom are Canadian."
Daphne Windsor (née Bernard)
Born November 1941. Lives locally.
Gwen Woodstock (née Bishop)
Born August 1946. Lives locally.
Sylvia Worden (née Paxon)
Born November 1941
John Wright
Born July 1943. "My Dad, George Wilfred Wright was enlisted with the 17/43rd Battery, 7th Field Regiment, Royal Artillery. No. 1081685 – Rank Bdr. Spent 6 years with the Regiment. He was on D Day crossing, helped liberate Holland. The photo is of a five leaf tulip lapel pin (one petal missing) with a picture of Queen Julianna. This was given to the troops by the people of Holland when they went through the towns. This could be very rare today.
When my father returned to civilian life he was a changed man for a while, my Mum said. He found it hard to come home to a child in the home, (me). He went back to work at West Central Post Office in London after the war where he worked until retirement. He received the Imperial Service Medal. Dad was a proud Englishman, with high ideals and didn't have the best of health after the war, but at least he came home.
Mum and Dad immigrated to Canada in 1976 for which they really loved. I was already living in Canada since 1968. My sister, husband and two children immigrated to Canada in 1973. So this was the reason for my parents immigrating as well. They both had the spirit of adventure and enjoyed travelling around Canada and the U.S. in their Volkswagen Camper Van. Neither of my parents are living now, but shall always remember them as a very resourceful couple, after experiencing War.
Mum and Dad lived in Streatham Hill, South London. When Mum was expecting me she was sent to Shardeloes which was approximately end of June 1943. I was born on July 5, 1943 on second floor the second window on the right side of building (see the painting of Shardeloes that my Mother painted). Mum said the Queen Mother came to visit. I was all very secretive. She spoke to all the expectant women. She arrived with just one security car, stayed for about an hour, then all the women wished her goodbye from the front stairs. Mum said it was a wonderful experience (see below). As the Queen Mother left, 3 planes in formation flew over the roof.
Irene Wright, John's mother, recalled the Queen Mother's visit: "We all fell in love with her. She spoke to every one of us, we were just like family. I remember looking at her shoes ….. they were scuffed and I thought, 'She's worn her comfy shoes'".
About a week after giving birth, my Mum returned home to their flat in Streatham. We both had to sleep in the shelter under the bed during the War. In late 1958 we moved to Mitchem, Surrey. I went to Gorringe Park School until age 15 (still just a young boy), then went to Central School of Arts & Crafts, Holborn, London, trained as a goldsmith. Then got an apprenticeship with Blazy & Clements on Regent Street, which was for 5 years. Worked in Hatton Garden for a while then took a job in Johannesburg, South Africa for 2 years, back home to London and then immigrated to Canada in 1968.
Over the years business was good. I opened a retail store. Was married in 1973, have one daughter, Sarah. My wife, Lynn and I have been enjoying retirement for the past 9 years. Even though I live in Canada, I'm still British, love everything from the Old Country. I even own a 1962 Hillman Super Minx Sedan for summer use, which came to Canada in 1962. I turn 72 in July, have great memories. Where have all the years gone."
John Wright
Born December 1943.
Mary Wright
Born February 1941.
Marjan Wydmanski
Born March 1946. His parents lived in Islington.
Derek Yates
Born August 1943. "Mother died a few years ago. Sister found me who I knew nothing about for 60 years. My mother was a 19 year old nurse from London. Would not collect me at the end of the war, I stayed in Barnardos till I was 7 then went to a foster home of a Salvation Army lady. Married with two daughters and three grandchildren."
Sarah Diana Yonge (née Tingley)
Born September 1940