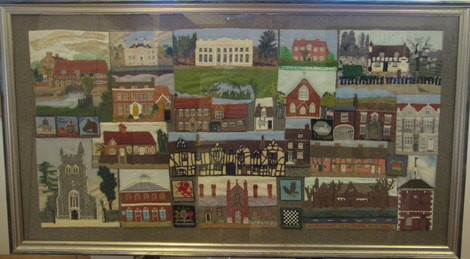 See the left hand column (or below on mobile devices) for buildings or streets to visit.
Amersham Old Town has a wonderful variety of periods of architecture – houses of all shapes and sizes. There are more than 150 Listed Buildings in the old town and much of the town is a conservation area. This town, possibly more than any other small town in England, preserves in its streets the same general appearance that it had in the 17th and 18th centuries.
The exact age of most of the houses can't be confirmed, as many of them have been altered and added to over the centuries. The oldest parts of nearly all the houses are the backs – the fronts having been modernised according to the fashion of the period. The earliest houses still standing are timber framed, with wattle and daub in the spaces. Local oak provided the main timbers. Flints were found in the chalk in this area and were split to face walls. The roofs were originally of thatch, but in the late 15th and early 16th centuries, brick and tile making were local industries. Tiles made at least 300 years ago are still on many roofs in Old Amersham and more recently slates have also been used.
In the High Street and Whielden Street before the second World War there were 56 shops including 6 butchers, 10 grocers, 5 bakers, 3 fishmongers, 3 cobblers …. in contrast to today's antiques, boutiques, dress shops, restaurants and the one Tesco store… Read about the many pubs which were once in the Old Town and also listen to Jean Archer talking about Amersham of Yesteryear.