George Ward and his Family – A Photographic Legacy
This article is based on research done by Gerry Selby for a panel produced for the Museum.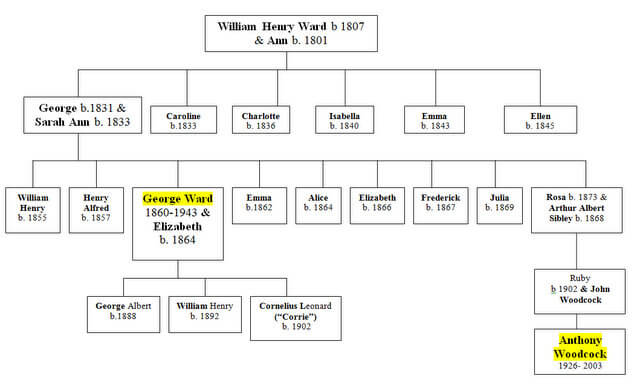 The family tree of the Ward family above also shows the links to Anthony Woodcock, the very generous benefactor to Amersham Museum. Anthony's great-grandfather was the father of George Ward, the photographer.
George Ward (1860 – 1943), the well-known Amersham photographer, was one of eight children. His father, born in Hughenden, Bucks in 1831, worked as a sawyer (see photo to left) before moving to a house on London Road, Amersham in the late 1850s. He later became the Foreman Carpenter at Weller's Brewery.
Many of the black and white photographs on this website have been produced from the original glass-plate negatives produced by George Ward between 1880 and 1930 which have been digitised by Amersham Museum and some can be seen there on tablets and in an album.
Photograph taken by George Ward of his parents – George and Sarah Ann Ward
George started his working life as a delivery boy for the Bucks Advertiser, which was printed in Amersham at King's Chemist in the Market Square. The son of the proprietor had a camera, and he taught George to take some early portrait photographs. By the 1880's, George had become a painter and glazier at Weller's Brewery but he was also recording daily life in the town and restoration of the church with his own camera.
He took a number of photographs of Elmodesham House for the Cheese family including one of their maid, Bessie Eagles, whom he married in 1886 at Chenies Baptist Church.
After their marriage, George and Bessie, lived in Tan Yard, when he became the first Manager of the newly expanded Gas Works. His duties included lighting all the gas lamps in the Old Town every evening. During this time, his interest in photography and engineering grew and he became known as a watch and cycle repairer.
In 1890, he handed over the role of Manager of the Gas Works to his brother Fred and set up a shop where Bessie sold crockery and toys, and he built a new photographic studio. He founded the Amersham Temperance Band in 1892, acting as Bandmaster and musical tutor for every instrument, whilst also being a Town Councillor.
By 1896 he moved to larger premises opposite the Market Hall where Bessie expanded her shop to sell tea, coffee and tobacco. In the spacious yard behind the shop, George manufactured the 'Wizard' bicycle and had a repair workshop, which sold spare parts.
By 1902 George was registered as a car repairer and soon purchased his own car called the 'Orient Express'. He took many photos of cars and bicycles, an interest his sons George and Cornelius shared. They took over running the Garage and Cycle works in 1909. George and Bessie were married for 50 years and through George's photos and records, Amersham has been left a memorable legacy of life 100 years ago.
---
Bessie Ward (née Elizabeth Eagles) was one of eight children of William Eagles who was a butcher and innkeeper. Her younger brother William was born in Malvern and served in the Navy from 1898 to 1920. He served on many ships rising from Stoker to Chief Stoker/Petty Officer. Some of these photographs have been provided by David Lindsell, William's grandson and some were ones we already had in our collection of photos taken by George Ward, brother-in-law to William.