These houses next to The Crown were formerly Clarke's Stores, grocers; Howard Roberts, groceries, wine and spirits (see below); and George Ward's shop and "Motor Works", the town's car and bicycle repair shop, which then was where the Oxley brothers opened their gardening business. Later they became The Food Hall. They are now the Oriental restaurant and the Jaeger shop. Behind these shops is now Ward Place. The houses are listed grade II and were originally 17th century but have been much changed, mainly in the 19th century.
George Ward was born in 1863 and died in 1943 and lived in Old Amersham all his life. He was a man of many parts: in addition to being a talented photographer, he was the first manager of the Amersham Gasworks, he founded the Amersham Brass Band and set up the town's first cycle and car repair business. Many of the black and white photographs on this website have been produced from the original glass-plate negatives produced by George Ward between 1880 and 1930 which have been digitised by Amersham Museum – copies can be seen and ordered at the Museum. George Ward Snr. had the shop for Cycles and Cycle Repairs, together with his son Corrie, whilst the other two brothers ran a garage at the rear.
Ward Place is behind no. 22 and is a range of barns with some fine beams which were very successfully converted into houses in 1975-78. They are listed buildings grade II.
Below the photo gallery, you can find much more detail about people and dates for these houses.
Click on any of the photographs below to enlarge it and to see the description. Then click on forward or back arrows at the foot of each photograph. To close the pictures, just click on one.
People and dates
No. 18
1696 John Young assessed for his house
1725 Will of John Young of Amersham, tallow chandler
1738 Mr Joshua Young rented the house of the late John Young
1739 Rented now byMatthew Handy (for 6 pence per half year)
1745 Rented from Mr Young by William Green
1764 Burial of Matthew Handy, grocer, at Baptist Meeting
1777 John Stonhall insured houses, warehouses stable and barn with Sun Insurance for £1,200
1792 Directory: J Stonall, grocer & haberdasher
1801 Sold to Thomas Drake Tyrwhitt Drake of Shardeloes Esq for £180 by Sarah Stonhall of Amersham, widow devisee in the will of John Stonhall late of Amersham gent,: "All that messuage or tenement with the appurtenances wherein Matthew Handy theretofore dwelt since in occ John Baker afterwards of Henry Horwood late of said John Stonhall and now of the said Sarah Stonhall situate in Amersham adjoining to a messuage or tenement late of William Drake Tyrwhitt Drake and now of the said Thomas Drake Tyrwhitt Drake heretofore in the occupation of Elizabeth Osborough widow late of Sarah Ayres and now of John Fowler on the south east and to another messuage or tenement late of the said of William Drake Tyrwhitt Drake and now of the said Thomas Drake Tyrwhitt Drake heretofore in occ Edward Norman being now a grocers shop and in the occ of William Potter on the north west"
1816 Rent paid for "a house in High Street formerly Matthew Handy's afterwards John Stonalls afterwards Sarah Stonalls and the said TT Drake late in occ said John Stonall & now used partly as a dwelling house in occ Thos Godbold and partly as a grocers shop in occ Sarah Potter"
1823 Directory: Samuel Potter, grocer
1841 Census: Thomas Brickwell (51) surgeon, Jane Potter (49) grocer
1851 Census: Samuel Potter (69) former grocer, Jane Potter (59), Arthur Clarke (41) grocer/tallow chandler
1881 Census: Henry G Clarke (34), grocer, and 2 boys
1891 Census: Henry G Clarke (45) grocer & auctioneer
1910 Valuation: WWT Drake: Sewell, House, shop etc
1911 Directory Sewell, Herbert Leonard, fancy dealer
1915 Directory Sewell, Herbert Leonard, fancy draper
1928 Sale Catalogue Lot 96: Important business premises known as Clarke's Stores. Let to Messrs Howard Roberts Ltd at £45 p.a.
1952 Directory: Howard Roberts, grocer
No. 20
1739 Rented by Wm Drake to Thomas Reading for a house £9 10s yearly rent
1745 Rental Wm Drake to John Andrew for a tenement
1765 Window Tax: James Rogers
1792 Directory: James Rogers ironmonger (possibly the maker of the older of the two long case clocks in the Museum), James Rogers, cooper
1798 Posse Comitatus (list of able-bodied men who could be conscripted): James Rogers, cooper
1823 Directory: William Rogers, cooper & grocer
1841 Census: Martha Rogers (42) Grocer
1851 Census: Martha Rogers, Widow Hd (56?), Grocer & Cooper
1883 Mrs Frances Rogers, ironmonger
1903 Directory: George Ward, ironmonger
1910 Valuation: Drake W W T: Ward, George House & Shop
1928 Sale Catalogue Lot 97: House shop & worshop occupied by Mr G Ward, let to him for £29 10s p.a.
1952 Directory: Ward, G & Co Cycle agents
No. 22
1674 " A tenement of George Ball ….. late in occupation by Nathaniel Child, Plumber"
1696 Assessment: Nathaniel Child for his house
1739 Rental Wm Drake to Joseph Jennings for a house £7 yearly rent
1745 Rental Wm Drake: Joseph Jennings for a tenement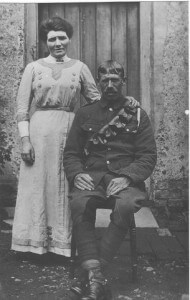 1841 Census: John Impey (45) miller
1851 Census John Impey (55) miller, 1 man
1851 Census of religious worship: John Impey miller and manager of the Quaker Meeting House
1928 Sale Catalogue Lot 98: Cottage & garden fronting on the High Street. Let to Mr G Sawyer £20 p.a.
1952 Directory: Ward, George A E, garage