Banner image – Sacconi Quartet, Little Missenden Church, 12 Oct 2019 ©Robert Piwko
The Founder of the Little Missenden Festival
Patricia Harrison – known to all as Pat – grew up in Missenden House, and returned to the village in the 1930s where she lived in Dering Cottage for over 50 years, taught at the village school, and in 1960 founded the Little Missenden Festival. This brief biography has been compiled by family members.
Pat and her twin sister Pauline were born in 1905. Their mother, also Pauline but known in the family as Pau-Pau, was a painter. Their father, Pembroke Stephens, born in Dublin and nearly 50 years her senior, was a QC and journalist (he was offered, but turned down the editorship of The Times), and bought his estate at Missenden towards the end of the nineteenth century. The Stephens family grew up in Missenden House, a well-to-do household with servants, and remained prosperous until years later the family fortune was squandered by a Trustee, leaving only a small residue to Pau-Pau and her children. Widowed twice before she was 40, Pau-Pau lived into her nineties with her unmarried sister St Clair (known as Aunt Sainty); dainty teas at their home near Wallingford gave her great-grandchildren a window into a now-vanished Victorian world. The twins' elder brother Philip, who in his youth was a tennis ace and star of early silent cinema, became a foreign correspondent for Beaverbrook's Daily Express and the Daily Telegraph (chosen by the BBC's John Simpson as his 'history hero' for his fearless reporting from pre-war Germany and Japan, he was killed by sniper fire in Shanghai in 1937). Pat's twin Pauline married Humphrey Cooke, an officer in the Indian army and later – after he lost an arm – in the political service; Pauline's letters and papers from the 1930s and '40s describing her impressions of India are held in the British Library. After Independence they moved to Jersey and ran a market garden at Bel Royal Vineries; among their four children, Major Nick Cooke served in the Gurkhas and earned a George Medal by saving a climber's life in the Mount Sangay eruption in Ecuador in 1976. The twins' younger sister Peggy married John Hilton (brother of the artist Roger, and an officer in the Secret Intelligence Service); their four children include Jenny, Baroness Hilton of Eggardon.
Pat was the weaker twin: she spent her early years flat on her back or with her leg in a brace, recovering almost miraculously to rival her very energetic sister; she loved games of all sorts, and never lost her competitive edge, which in her old age found its outlet in bridge, backgammon and cribbage. She and Pauline went to St Leonard's school in St Andrews, Scotland, and were high achievers in their studies and at sport. Pat began a degree in maths at London University ('the one wasted year of my life'), then left to study eurhythmics with Emile Jacques-Dalcroze in Geneva, which had become the centre of modern dance in the era of Diaghilev and Nijinsky, Isadora Duncan and Martha Graham. After two years, she returned to England to teach eurhythmics and marry Godfrey Harrison (later returning to Geneva in 1935 to complete her diploma). Pat and Godfrey had five children before and during the war: Jane, Ailsa, Mark, Richard and Charles. Godfrey, a writer, had read classics at Oxford and rowed for his college; a quieter presence in the village than Pat, he was a freemason and churchwarden and later made a study of theology, like his father, the Pauline scholar P. N. Harrison. A draughtsman in his spare time (the colour-coded map of the historical development of Little Missenden Church is his), Godfrey worked for a time with the London Typographical Designers, and produced the layout for the brochure and programmes for the first Little Missenden Festival. He was a passionate birdwatcher, and published a bird diary in 1936, with woodcuts by Robert Gibbings. Pat later passed on his love of birds and birdsong to others in the family and to her pupils, on spring trips to the larch woods to hear the first warblers.
In 1933, after a period in Bristol, the family moved to Dering Cottage on the Little Missenden estate; this was viewed as a temporary measure while Godfrey was between jobs, but would become Pat's home for the rest of her life. Wartime spells in Yorkshire, where Godfrey was stationed, gave Pat the chance to study with the composer Edward Bairstow, who was organist at York Minster. Back in Little Missenden, Pat was a driving force in the village, teaching at the school, giving piano lessons, and serving on the PCC; as explained in the article below this one, she began the Festival in response to an idea from the cellist Rohan de Saram, an Oxford contemporary of her sons Mark and Richard, who had come to visit the family at Dering Cottage. A booklet published to celebrate the Festival's first ten years tells the history of its inception, and evokes the energetic spirit in which it took off and the characters involved. For the first three decades the artistic direction of the Festival was led by the triumvirate of Pat, Richard Drakeford (composer, music teacher at Harrow and a wonderful impresario for the children's concerts) and Michael Cox (an art teacher whose London base brought invaluable knowledge of up-and-coming performers). Behind the scenes, the annual logistical miracle of staging a lively festival in a small village owed much to an army of local volunteers, helping to fulfil Pat's vision by managing all the practicalities, from the box office to flower arrangements and teas in the village hall.
Performers in the early years of the Festival included Helen Watts and Peter Pears. Rohan de Saram retained his connection with Little Missenden and fondness for Pat (who travelled to visit his family in Sri Lanka), and has given many concerts for the Festival since the beginning. Ian Partridge sang at the Festival over several decades, accompanied by his sister Jennifer, and became a friend, singing for Pat's 90th birthday party in 1995. In the late 1960s, Pat began a long association with the composer John Tavener, who subsequently wrote several commissioned pieces for the Festival. Her pupils at the village school provided the cast for his Celtic Requiem, featuring traditional children's playground songs; after the premiere with the London Sinfonietta it was filmed in 1970, and Pat kept the clapperboard in the front room of Dering Cottage for the rest of her life. Tavener was an exotic figure at Pat's parties, arriving in a Rolls Royce, impossibly tall with long flowing hair, wearing white jeans, black shirts, gold jewellery and a deep Mediterranean tan. On her 90th birthday he sent a setting of 'Happy Birthday' composed for the occasion and sung at the party by her family; he later wrote a piece in her memory commissioned by the Friends of the Festival and performed by the Cambridge Taverner Choir.
After Godfrey died in 1965, Pat never remarried, but devoted her energies over the next three decades to the Festival, to writing poetry (two volumes were printed in the 1980s), playing the piano (she took lessons with the Swiss pianist Albert Ferber, mastering Bach Preludes and Fugues and several of Faure's nocturnes), and above all to a growing multitude of grandchildren. She was an inspirational grandmother and took the keenest interest in all her extended family. For her visitors, staying at Dering Cottage was special at any time of year; spring was marked early by aconites and snowdrops, in summer there were bowlfuls of raspberries to pick from the garden for breakfast, and when the roses were out, big parties in the garden with croquet and French cricket on the lawn; in the autumn the Festival of course (with Richard Drakeford holding forth in his purple dressing gown over a bowl of porridge), and in winter, scones by the fire, musical parties and a huge Christmas tree hung with real candles. Jane's vibrant paintings lent much to the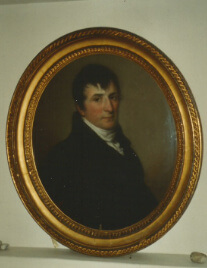 character of the house, and next to the piano hung a portrait of Pat's musical ancestor, the Polish-Lithuanian composer and violinist Feliks Yaniewicz, who co-founded the first Edinburgh Festival in the early nineteenth century. His double violin case (with the bill of sale for a Stradivarius and an Amati), survived in the family and was recently donated by Pat's niece to the University of Edinburgh's musical instruments collection.
Having been raised with servants, Pat was never very domestic, and her household was supported by two devoted helpers from the village, Ethel McGahan and later Joan Smith, and by Mr Ough and Ted Butler in the garden. She was a loyal devotee of the Red Lion, where she loved to sit by the fire and catch up with village gossip, or eat out in the garden in the summer, watching for birds and fish in the stream. She cut quite a distinctive figure walking through the village in a long red mohair coat from Italy on those chilly October evenings during the Festival.
While her deepest roots were in Buckinghamshire, Pat wrote in one of her poems of being 'landlocked'; she loved the sea, especially at St Ives, which she visited often with Charles's and Mark's families, and Branscombe in Devon with Ailsa's family. She had been a strong swimmer, and always seemed energised by watching the white horses out at sea in rough weather. She often returned to Geneva to visit Richard (who had settled there and worked for the World Health Organisation), and reminisced evocatively about her earlier travels to Istanbul, Florence, and above all Venice, which she loved with a passion – she kept a brass dragon from a Venetian gondola above the fireplace in the sitting room at Dering Cottage. Her interest in foreign cultures was reflected in her reading – perennial favourites were the Tale of Genji, Simenon's Maigret novels, and Proust, which she read twice in the original French.
Pat died in January 1998, a few days short of her 93rd birthday, at home in Dering Cottage. Of her children, Jane (who married into the family of the artist Ben Nicholson) had died tragically of cancer in 1975; Charles (an art-critic and –historian) also died of cancer, in 2009; Ailsa (a composer) died in 2017. Pat's surviving children, Mark and Richard, and her 18 grandchildren remember her with great fondness, and several members of the family return to Little Missenden for the Festival each October.
***************************************************************************
The story of the Festival
This article is largely based on the booklet published by the Little Missenden Festival in 2009 to celebrate 50 years of the Festival, with assistance from Richard Harrison
In 1959, Little Missenden resident Pat Harrison conceived the idea of a festival of music, poetry and art, presented in the lovely rural setting of Little Missenden and its small but magnificent church. Her ambition was to bring together professional artists, budding talent and young performers to explore the rich field of music and other arts in an intimate village event, for which she set the most exacting standards. Her dream became a reality. For half a century this pretty Buckinghamshire village has hosted an annual festival of acknowledged quality and integrity that has delighted its audience, attracting lovers of music, poetry and visual arts from far and near.
When the Little Missenden Festival was born, a village event of this calibre was a rare thing. Since then, many other local festivals of music or art have come and gone. Of those which began so long ago, few have survived and grown to taste the triumph of a 50th year.
"I believe we could do something"
The Little Missenden Festival owes its being to a remarkable woman. Patricia Harrison was born in the village in 1905 and her parents divided their time between London and their country home at Missenden House, conveying children and chattels between the two by means of the Metropolitan Railway and pony and trap.
A love of the arts took the young Patricia to Florence, and later to Geneva to study Eurhythmics, a dynamic method devised by Emile Jacques-Dalcroze to develop musicality and creative expression through movement of the whole body. For tuition in composition, she turned to Sir Edward Bairstow, Master of Music at York Minster, a passionate lover of beauty in music and an outspoken critic of "tripe and trash".
When Missenden House was sold, Pat Harrison moved eventually to Dering Cottage in the village and continued her life's work of teaching music, with the children of Little Missenden School amongst her pupils. Through her sons Mark and Richard she met composer Richard Drakeford and cello prodigy Rohan de Saram, both of whom were part of Oxford's budding musical elite. (Richard recalls "the first meeting with Rohan in Oxford when the Misses Deniker, who held a kind of salon in Oxford in the late '50s, invited Pat to hear him, then very young, play the Kodaly solo 'cello sonata in the presence of the composer – I was there, and I think Richard Drakeford was too").
Pat recalled how, on walking through the village fields with Rohan during a weekend visit in 1959, "I remarked that I had hardly managed to do anything for music in my life; a certain amount of teaching, a few small compositions – nothing really. Rohan said 'you ought to start a festival in your village to play and talk. I would like to come. It seems a place that has a harmonious atmosphere.' Next morning, lying awake early, the faces of people who might be interested kept bobbing up, until I thought 'I believe we could do something'."
With her usual energy and acumen Pat had soon conjured up a Festival Committee chaired by Philip James, the former Director of Art at the Arts Council of Great Britain, who lived at Seer Green. Richard Drakeford and Rohan de Saram joined the Committee, so too did Dr Neil Saunders, local composer and conductor of the Great Missenden Choral Society, and the then owner of Missenden House, Geraint Jones – organist, harpsichordist, conductor and founder of the Geraint Jones Singers and Orchestra. Ably assisted by other founder members, particularly art-teacher Michael Cox, they made plans for "a festival of music and the arts" centred on the Parish Church of St John the Baptist, Little Missenden School and the village hall. Thus began the tradition of high quality music-making in Little Missenden that has continued unbroken for fifty years.
The Festival is Born
The first Little Missenden Festival of Music and the Arts took place from 14th to 16th October 1960, instantly impressing its audience with a programme and performances whose range and quality set the standards for the decades to come.
From the very beginning, the roll-call of talent was impressive. Helen Watts, one of Britain's finest contraltos, sang with the Geraint Jones Orchestra. Richard Drakeford's String Quartet No 1 enjoyed a first airing and distinguished composer and pianist Edmund Rubbra, who lived at Speen, accompanied Rohan de Saram for his Sonata in G for cello and piano. Louis MacNeice – amongst the most renowned of contemporary poets – read from his own works and Philip James secured and arranged an exhibition of prints loaned by Sir Bruce Ingram, managing editor of the Illustrated London News and a distinguished collector of 20th-century art. A Concert for Children was included, setting a precedent for future years.
Richard Harrison has added other illustrious contributors: an exhibition early on of Henry Moore drawings (London Underground air-raid shelters during WW2); Sir John Tavener's association with Pat and children of the Little Missenden village school for the "Celtic Requiem" (they went to the Festival Hall for the performance), and his several compositions for the Festival; Richard Benger and especially also David Matthews were prominent – David from the start to this day; Pat's daughter Ailsa, a composer also, had works performed by the Brindisi Quartet and by Ian & Jennifer Partridge and Lynne Dawson, the latter incorporating an earlier unfinished composition by Pat. The owners of Shardeloes were involved for a while, and Earl Howe hosted meetings of the Friends of the Festival at Penn House. Pat's son Mark was Treasurer for many years, and her grand-daughter Sarah served on the committee.
As Festival Organiser, Pat Harrison embarked on a personal odyssey that would encounter a complex host of challenges, from soothing wounded feelings to agreeing artists' fees. Under her driving force, an army of volunteers set to work behind the scenes. Programmes were printed and a box office established. Chairs were collected, lights were erected, and a rota of forty "catering helpers" stood ready to serve afternoon tea and elegant pre-concert suppers in the Festival Clubhouse, alias the village school.
Parishioners' fears of "beer in the belfry and fag-ends in the font" were quickly laid to rest.Flowers and candles decked the church, in candelabras fashioned from discreetly disguised tobacco tins. When the stage was finally set, it was said with pride that the church "had never looked more beautiful."
Pat Harrison's insistence upon excellence left nothing to chance: "I am hoping to be at Sadlers Wells with the Smiths at 6.30 on Saturday, so that Joan can sample their refreshments and see how it is done." Yet even she was not above reproof: "I am writing for Lady Dashwood to say how very annoyed she is to see on the Little Missenden Festival Programme Committee the name of Helena Dashwood, she wonders whether this refers to her. Lady Dashwood notices that all the married ladies are described as if they were signing a letter to a friend, and the list suggests a teenage group getting up a Bingo session instead of a serious and beloved music festival."